News Explorer 1.8.5: Dynamic Type support and more
News Explorer 1.8.5 contains new features focused on accessibility and usability, plus the usual bug fixes. This version is an iOS-only update. Most of the new features will also be part of the upcoming updates of the other editions (macOS and tvOS), so don't worry.
New features
News Explorer 1.8.5 for iOS contains the following new features:
Support for Dynamic Type. With this you can change the font size of the list and timeline views in the Settings app of iOS, via Display & Brightness > Text Size. The font size for the article reader remains adjustable within the article viewer.
The feed icon can now be changed via a new left swipe Select Icon action in the subscriptions list. The swipe action will open a popup view, showing all available icons for the selected feed. Just tap to assign another icon to the feed.
New Timeline View section in the News Explorer settings, with some new handy behavior preferences. With this you can determine what the app must do when you reach the bottom of the timeline view. For example, automatically mark all items as read and open the next feed.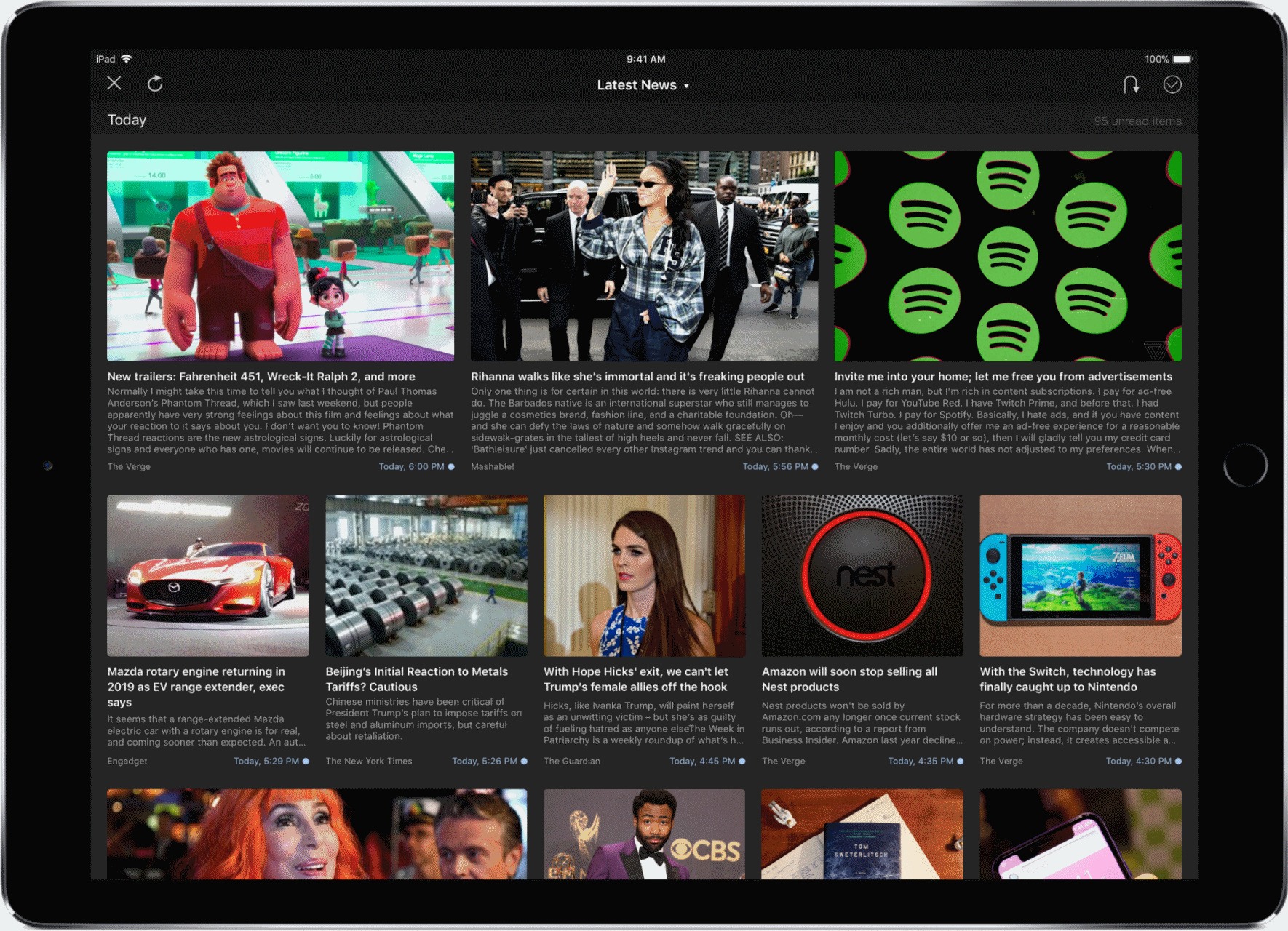 Improvements and fixes
The following improvements and bug fixes are part of News Explorer 1.8.5. for iOS:
Image viewer can now be closed with a swipe up gesture.
The feed selector of the Timeline view does now show unread counters.
Added a 2 hour sync time interval in the News Explorer settings.
Fixed a bug with opening source links containing a hashtag character.
Idem, when using the Reader view with source links containing a hashtag character.
Fixed a problem with the default font, when using a font size larger than 14 points.
After marking unread items with 'Mark all as Read' as read, the app navigates now to the start screen.
Fixed a visual glitch when using the app with iPhone X in horizontal orientation.
Fixed a visual issue when using the Mail sharing sheet.
⭐️⭐️⭐️⭐️⭐️ needed!
To enhance the visibility of News Explore in the App Store and Mac App Store, as in being displayed with the eye-catching orange rating stars, we need still some more ratings. To be displayed with the said stars, we need at least 5 ratings per country. So if you like News Explorer, spend a few moments to leave a rating or review. Thank you!