News Explorer 1.8.7: Collapsible folders and more
News Explorer 1.8.7 introduces collapsible folders, performance improvements and some fine-tuning. This version is an iOS-only update, just like the previous one. But don't worry, we're already busy for some time with the other platforms, to offer similar features and much, much more.
New features
News Explorer 1.8.7 for iOS contains the following new features:
Introduction of collapsible folders in the subscription list. By tapping on the right side of a folder header, you can collapse it. By tapping it again, it will expand to its original state. While collapsed, an unread counter will be displayed for all containing feeds.
The subscriptions list features now asynchronously calculated unread counters with caching. This should result in more responsive scrolling, even during a sync session.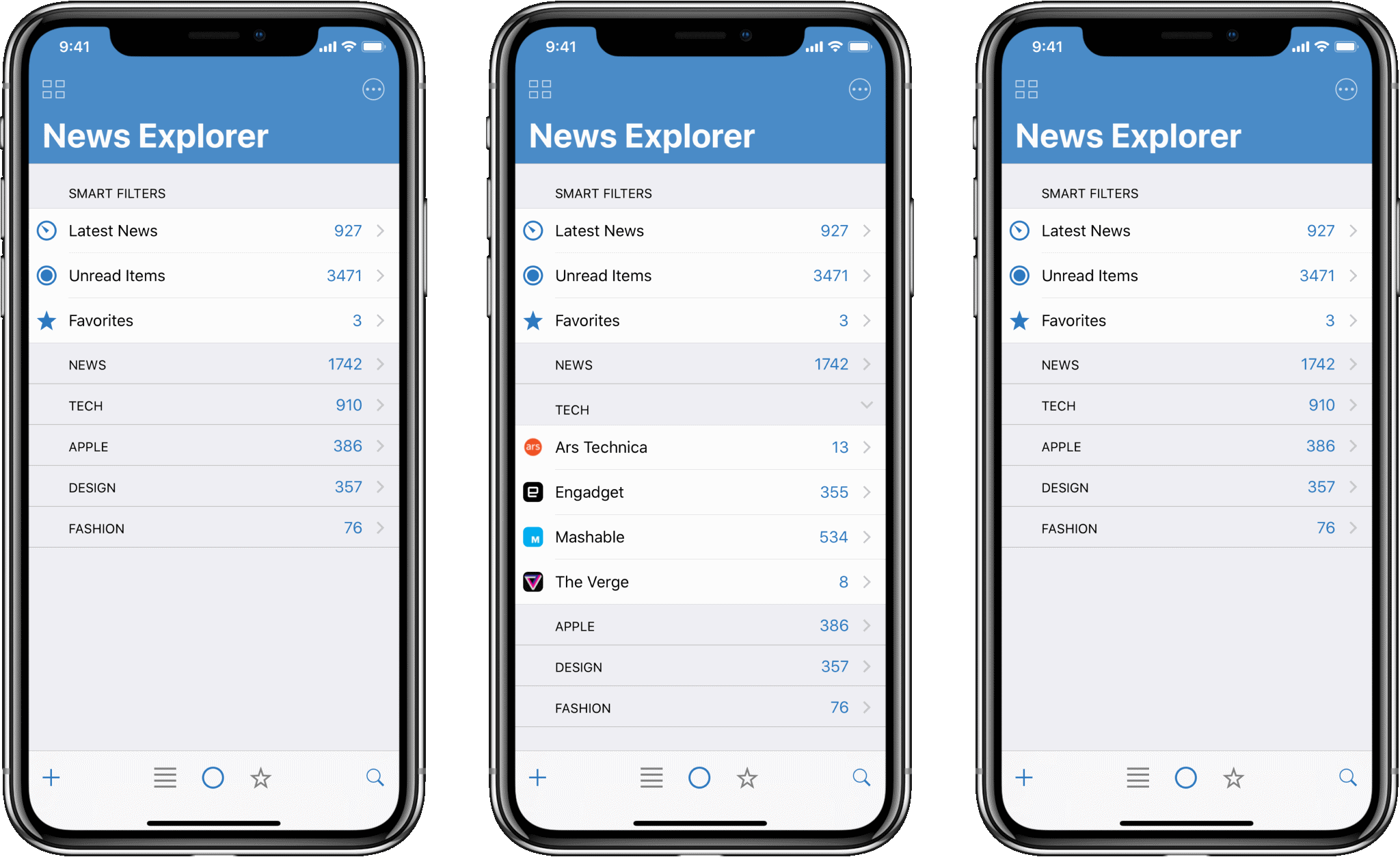 Improvements and fixes
The following improvements and fixes are part of News Explorer 1.8.7 for iOS:
You can now make the Timeline view toolbar visible by tapping on the date group header.
Timeline view doesn't change the scroll position anymore when you navigate back from visiting an article.
Added a menu item to the Settings menu, to open the News Explorer Help page.
Improved support for iPhone X when using the Timeline view in landscape orientation. The content is no longer clipped by the infamous 'notch'.
Fixed a visual glitch which occurs after rotating an article on the iPhone X from portrait to landscape orientation.
⭐️⭐️⭐️⭐️⭐️ needed!
To enhance the visibility of News Explore in the App Store and Mac App Store, as in being displayed with the eye-catching orange rating stars, we need still some more ratings. To be displayed with the said stars, we need at least 5 ratings per country. So if you like News Explorer, spend a few moments to leave a rating or review. Thank you so much!