News Explorer 1.8.8: Behavior settings, Spotlight and more
News Explorer 1.8.8 for macOS is overloaded with new features, improvements and fixes. Most of them are macOS specific, this version is therefore a macOS only update. The next major release, version 1.9, will be an all-platform update.
New features
News Explorer 1.8.8 for macOS contains the following new features:
The Preferences panel has been reorganised, and contains now a new Behaviors tab. This tab adds a lot of new behavior settings, like what the app should do when you double-cick an item in the article list, and lots more.
You can now search for news articles in News Explorer via Spotlight Search. The Preferencs panel contains some new settings, to disable the indexing, to include thumbnails, and to delete the Spotlight News Explorer items. You need macOS 10.13.4 or newer to use this new feature.
The Sidebar has been strongly improved:

Collapsed folders do now show an unread counter badge.
The collapsed or expanded state of each folder is now being stored.
Feed icons can now be changed, via the feed context menu.
Added support for the system sidebar icon size setting.

The in-app browser features now Subpixel anti-aliasing, which results in easier to read text with more contrast, especially with modern thin fonts. You can fall back to the standard grayscale anti-aliasing by adjusting a setting in the Reading tab of the Preferences panel.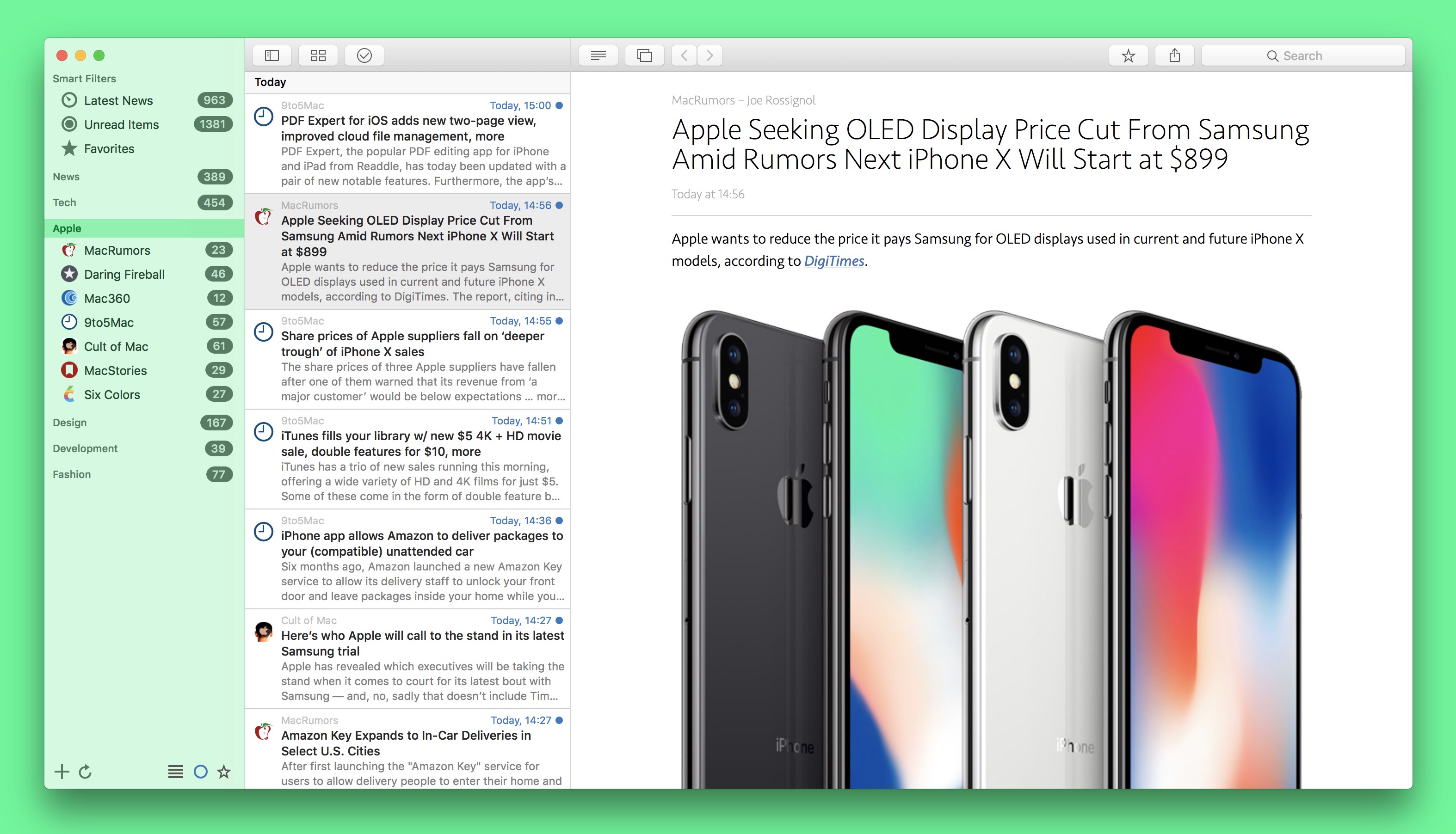 The said Reading tab contains the following new In-app browser settings:

Enable Javascript
Enable private in-app browsing
Enable plug-ins

In addition to this, you can clear the cache of the in-app browser.
Implemented Next and Previous menu items for articles, with short cuts J and K. So now we have three ways to navigate in the article list with the keyboard: by using the said new short cut keys, by using the spacebar key, and by simply using the arrow keys.
All YouTube videos in News Explorer can now be opened in full window size. Or full screen if you maximize News Explorer to full screen. This behavior can be adjusted in the Reading tab. This feature is experimental and requires macOS 10.13.
The Advanced tab of the Preferences panel contains the following new settings:

Cancel sync when quitting the app. You should only enable this when News Explorer blocks the shutdown process of your Mac.
Block updates during feed downloads. This setting is always active when you 199 feeds or more.
Limit interface updates during sync. This is automatically active when you have more than 99 feeds. It pauses updates of the sidebar and article list during high processor usage.

A Folder Manager has been added, accessible via the Window menu. The current functionality is limited to deleting unused folders.
Improvements
The following improvements can be found in News Explorer 1.8.8 for macOS:
Added support for bookmark links. These are links that scroll to a certain location within a page, after opening a webpage.
Adjusting the width of the article list will now correctly resize the height of the table view cells.
An activity indicator is now visible in the toolbar during rendering of the Reader view.
Improved persistence of the last selected folder in the Add new feed dialog.
Handling of left arrow key in the in-app web browser has been changed, to prevent closing the page when an input control has the focus.
Tweaks
The following existing features are tweaked in News Explorer 1.8.8 for macOS:
Simplified the Mark as Read and Mark as Favorite context menus.
Feeds are now downloaded in order of type and recently updated. This should prevent time-outs for feeds that are likely to be more important.
Animated change of the global content filter.
The built-in Readability engine has been updated.
Support for force touch in the articles list and Timeline view has been removed, due to a lack of official support by Apple.
The Share menu will now try to share the current presented URL, instead of the URL of the current article.
And countless other small tweaks, too nerdy to mention.
Fixes
The following fixes are part of News Explorer 1.8.8 for macOS:
Correction of incorrectly encoded feeds has been enhanced. Especially feeds with cyrillic and other non-ascii characters will benefit from this.
Dates in feeds with two digit year numbers are now correctly processed.
Support for RDF feeds has been enhanced. Especially some scientific feeds will benefit from this.
Feeds with too many white spaces around URLs and other fields are now also correctly processed.
Fixed a printing issue which resulted sometimes in an empty output, especially with long complex pages.
A crash after exporting to PDF from out the Print dialog has been solved.
Fixed the 'Download replies' Twitter setting.
⭐️⭐️⭐️⭐️⭐️ needed!
To enhance the visibility of News Explore in the App Store and Mac App Store, as in being displayed with the eye-catching orange rating stars, we need still some more ratings. To be displayed with the said stars, we need at least 5 ratings per country. So if you like News Explorer, spend a few moments to leave a rating or review. Thank you so much!