News Explorer 1.9.7 for macOS: Refinements and more
Version 1.9.7 of News Explorer for macOS contains fixes, refinements and a few new features.
New features
The following features are new:
Video podcasts, like this one from TED Talks, are now properly recognized and displayed.
Copy Link has been added as action to the Share menu. The app already contained multiple other ways to copy the link of the current article, but still a lot of users expect all export minded functions in the standard Share menu.
Open in Safari plus comparable actions for all other popular web browsers has been added to the Share menu. Like all other items in the Share menu in News Explorer, you can determine the visibility and assign shortcut keys to these new Share menu actions.
A status bar is displayed at the bottom of the article list when the app is syncing, showing the current action within the sync procedure.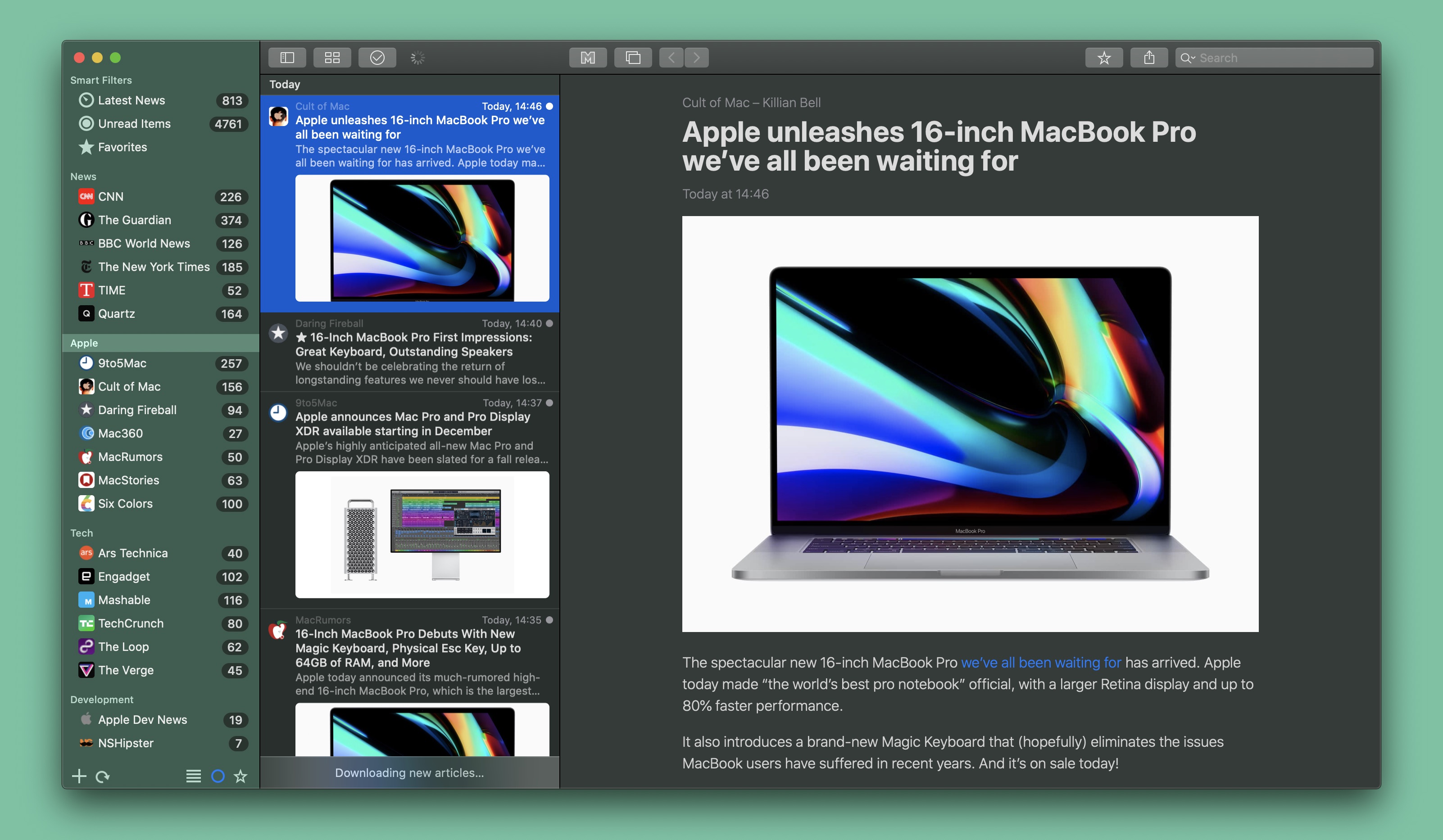 Refinements
The following aspects have been refined:
Import OPML File has been added as menu item to the plus button popup menu in the sidebar.
Image extraction has been improved. More types of non-standard formatted images links are now properly recognized.
The View options dialog is now also available when an item is selected in a smart filter list
Timely display of the subscription or folder name in the first group header of the article list has been improved, in case the sidebar is hidden.
Implemented ETag HTTP header detection when downloading feed data, to complement the not always reliable If-Modified-Since HTTP header.
The Crash dialog has been improved. Indeed not really an improvement you were waiting for. But if you encounter it, it will be much more useful than the previous crash dialog.
Margins within the article list items have been tweaked. Probably due to compiler changes in the latest version of Xcode, they were different than originally intended in the previous version.
Bug fixes
The following issues have been resolved:
The sync interval mechanism didn't work in the previous version.
The Feed Icon selector panel had a weird lay-out problem. This has been restored to the original design.
Keyboard input handling within web pages with HTML5 text boxes has been improved.
Fixed incorrect positioning of dialog sheets. They are now displayed under the toolbar instead of on top.
Clicking on an unread badge in the sidebar does no longer prevent selecting the related row.
Solved an issue with two videos playing simultaneously when started from an article opened from the Timeline view.
When going full-screen with an article opened from the Timeline, weird things happened with the top margin of the article. This has been fixed.