Movie Explorer Pro 2.2: Frequently asked enhancements
Movie Explorer Pro 2.2 contains small adjustments to make it compatible with macOS 11 Big Sur, some frequently asked enhancements, and a few bug fixes.
New features
The following new features have been added to Movie Explorer Pro:
Add discs without barcode: you can now add digital discs without a barcode. To do this, choose File > Add Single Disc in the menu, and add the title of the movie, TV show or collection, instead of the barcode. Click the Search button to continue with the addition process.
Adjustable disc covers: covers of digital discs can now be individually changed. This means that when you have multiple discs of one movie, you can assign different covers to each disc. To change a disc cover, choose Select Cover from the context menu, or simply click on the preview image in the Inspector panel or Disc editor window.
Batch rematch of TV shows: you can now change the TV show of multiple files in one batch operation. To do this, select Reselect TV Show from the context menu of the selected TV show or season in the TV shows sidebar of the TV shows view. In the first step of the batch procedure, you can search for the correct TV show. In the second and last step you select the files related to the initially selected TV show or season, that must be assigned to the newly chosen TV show.
Exclude files for indexing: the Locations section of the Movie Explorer Preferences contains a new setting Skip paths containing. Here you can add text phrases to filter out files during file scanning. To exclude files in folders named 'Trailers' for example, add a text phrase '/Trailers/'. Or to exclude certain file types, add the file extension, for example '.mp4'.
Persistent sidebar groups: the collapsed and expanded state of each group in the sidebar is now being saved in the preferences.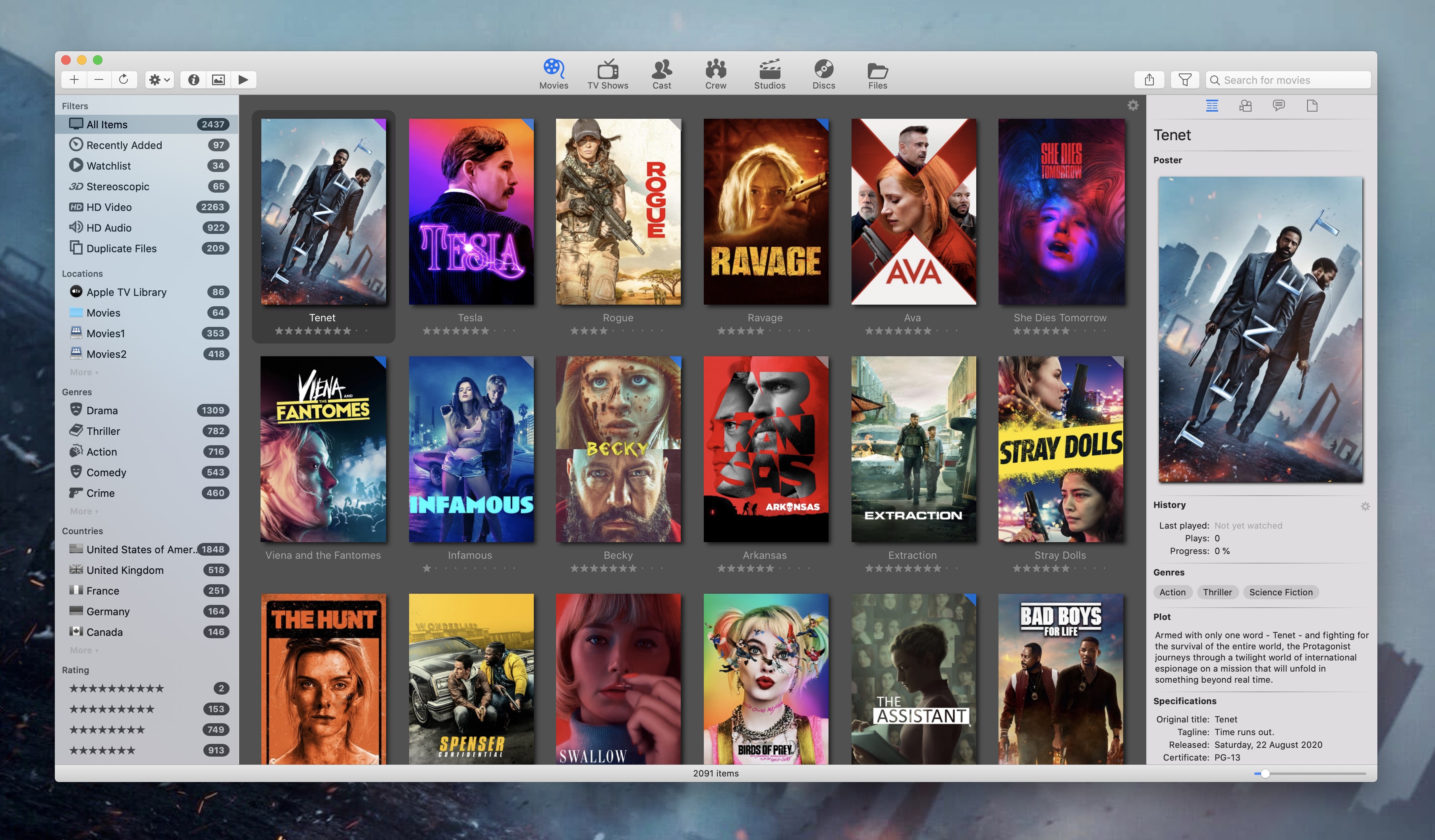 Bug fixes
The following issues have been resolved:
The logic to calculate the number of matches of a Query has been changed to prevent performance issues when you define a complex Query with a lot of parameters.
Collapsed groups in the sidebar will now remain collapsed when refreshing a location, or when editing the settings of the sidebar in the Preferences.