Movie Explorer 1.8: Revamped views and more
The Cast, Crew and Studios views in Movie Explorer 1.8 are replaced by new views, and there are some improvements related to file scanning:
The Cast, Crew and Studios views are completely redesigned. These views do now have a sidebar on the left side, where you can browse for persons or studios. The rest of the view shows the related movies, plus an inspector view with more details of the selected person or studio. On top of the sidebar and movies view, you see a small settings icon. When you click on it, a settings panel pops up. In this panel you can set a filter on the persons in the sidebar, customize the sorting of the movies, and set the visibility of some other user interface elements. In the Crew view you can now, for example, easily filter on directors or producers.
The MediaInfoLib library has been updated again, and even more important, the implementation of this library within the Movie Explorer app has been improved. During scanning only the file metadata that is actually being used by Movie Explorer is now being extracted. This will lead in most cases to shorter scanning time and fewer crashes.
A new iTunes metadata scanning engine has been added. This engine is being used with .mp4, .m4v and .mov files, to extract movie and episode information plus technical metadata. This will lead to better matching results, especially when you scan unaltered iTunes media files. You can disable or fine tune the use of this engine in the Advanced section of the Preferences panel.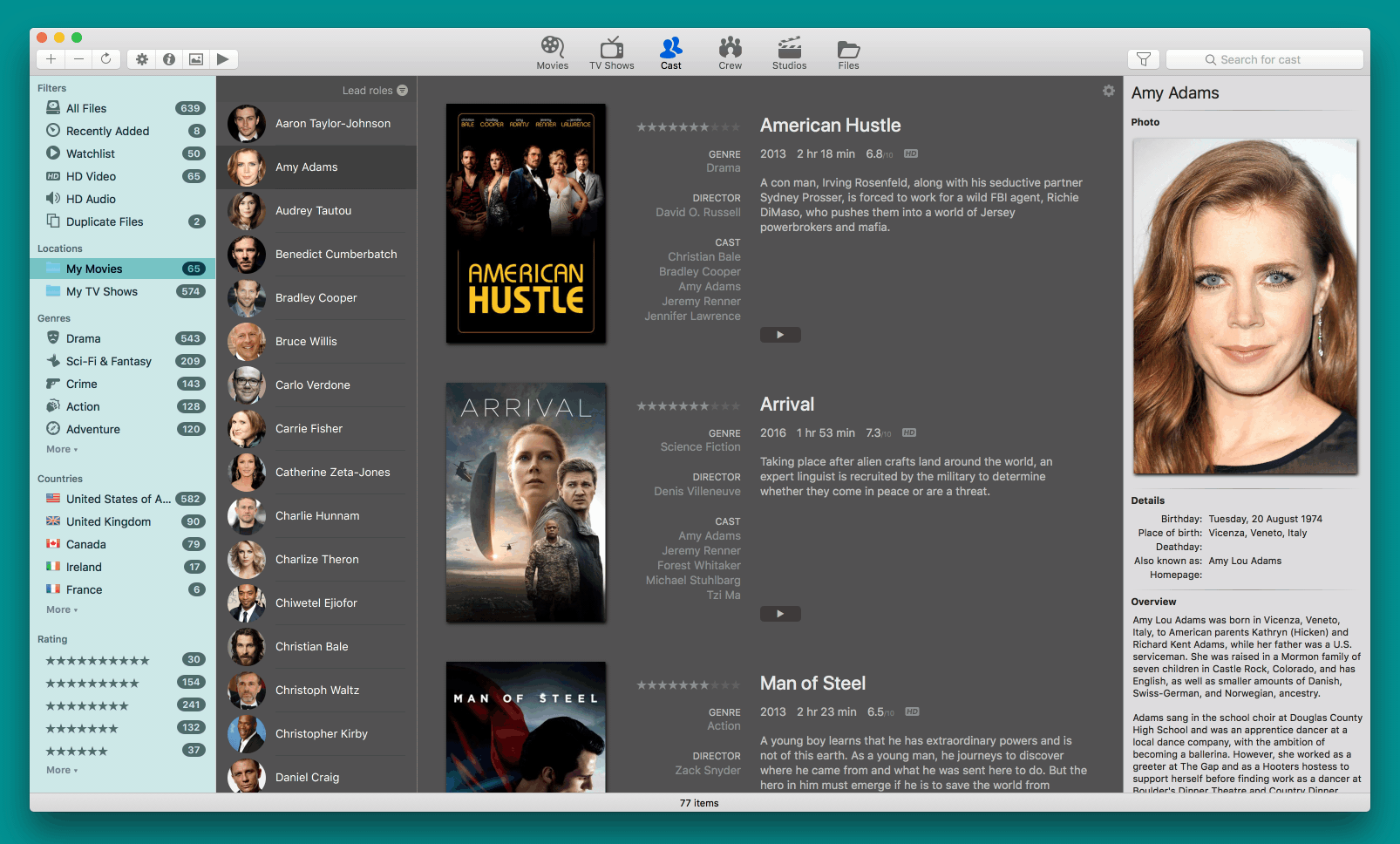 ⭐️⭐️⭐️⭐️⭐️ needed!
To enhance the visibility of Movie Explorer in the Mac App Store, as in being displayed with the eye-catching orange rating stars, we need still some more ratings. To be displayed with the said stars, we need at least 5 ratings per country. So if you like Movie Explorer, spend a few moments to leave a rating or review. Thank you!