Movie Explorer Pro 2.0: An introduction
Last year, we worked hard on the 'next big thing' for Movie Explorer, between all the News Explorer updates. We always wanted to add support for digital movie discs. And use our own large Blu-ray collection as a big and nice test case. Much time has been spent on 'harvesting' barcodes with movie titles, and finding usable data sources. We have also invested a lot on barcode scanning with the FaceTime camera. Which was not exactly simple, given the fact that especially older Macs are far-sighted. In addition, we have developed a lot of other useful and long-awaited features to make the app 'Pro' worthy.
Disc scanner
Digital discs like Blu-rays, Ultra HD discs and DVD's, can be added by using the built-in barcode scanner, that make use of the FaceTime camera of your Mac, or by using an external USB scanner. You can also manually enter barcodes, if you have all the time in the world. In all cases, you can choose between working in single addition modus, or in batch modus. To find a corresponding media title for a barcode, an internal database is used first. This database is being updated regularly. When the database doesn't contain the searched barcode, the search continues using several online data sources. If this results in nothing, you can search manually for the correct media item. The scanner supports movies, TV shows and collection boxes.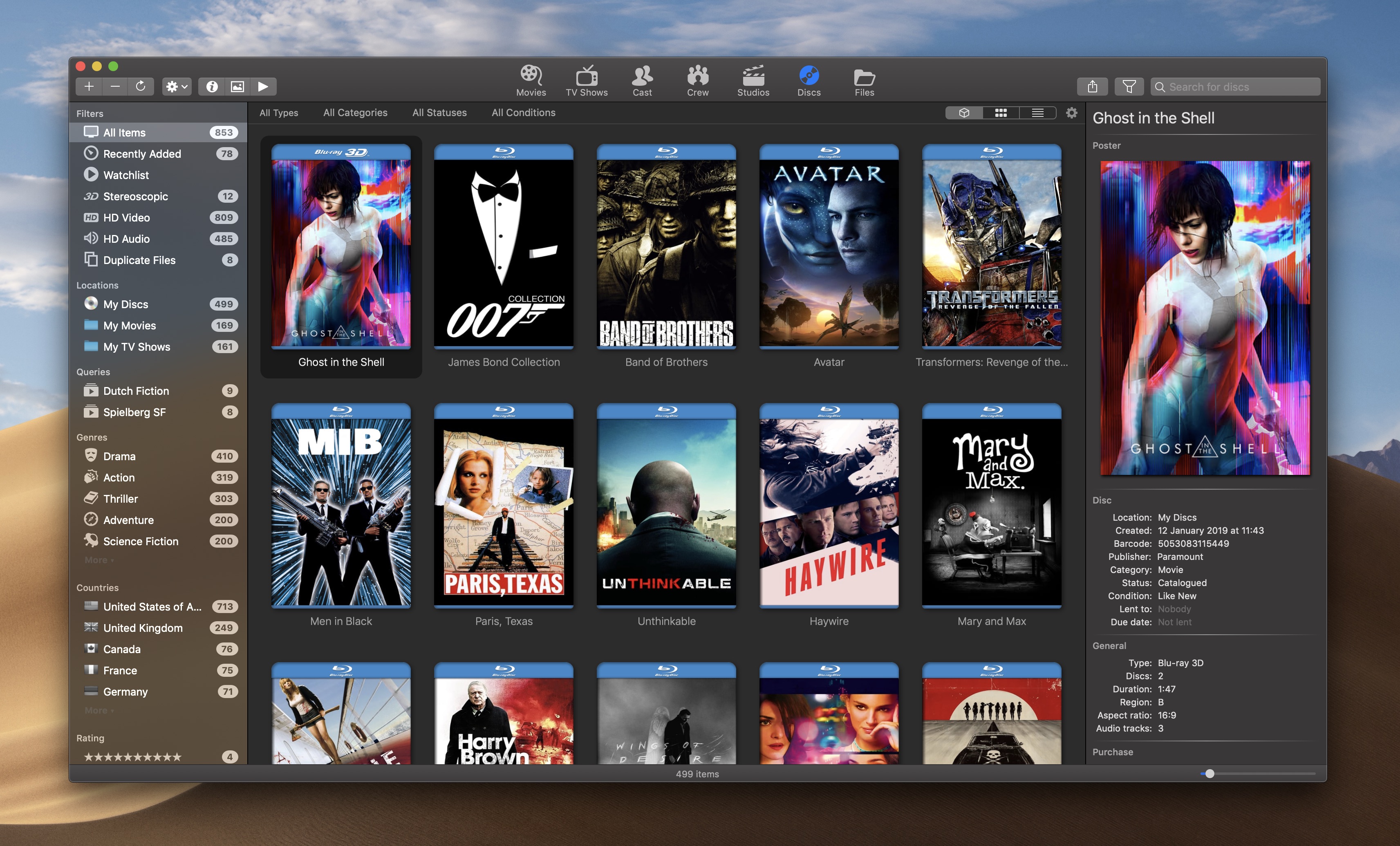 Discs view
The Discs view shows all your digital discs in an attractive thumbnails view, including a beautiful rendering of the media boxes. Blu-rays, 3D Blu-rays, Ultra HD discs, DVD's and even HD DVD's are all represented with their own distinctive box designs. The view offers a lot of filtering and sorting options. You can edit discs with the extensive Disc editor. The Disc editor let you tweak all kinds for specific discs details like audio tracks, subtitles but also the condition, supplier, price and much, much more. All this can also be used to filter on.
TV Shows view
All modules that were part of the 'TV Shows Add-on', available as an in-app purchase in the previous version of the standard Movie Explorer edition, are of course part of Movie Explorer Pro. This means support for TV show indexing, a dedicated TV Shows view with the super handy TV shows sidebar, support for watch history and Watchlist, including synchronization with Trakt.tv.
Queries and Lists
With Queries, you can add your own data filters to the sidebar. These filters can be as simple or complex as you want. For example, all Science Fiction Drama directed by Steven Spielberg with a rating of 8 or higher. With Lists, you can make your own collections of movies, TV shows, actors or crew members, and add them to the sidebar for quick access. You can assign custom icons to the queries and lists you add to the sidebar, to make them easier recognizable.
Personal ratings
The sidebar contains as default rating filters based on TMDb data. In Movie Explorer Pro you can assign your own ratings to movies and episodes, and use it as sidebar filters. And you can even write your own reviews for movies and episodes.
Export formats
The complete catalog, or a sub-selection based on a location, query or list, can be exported to a PDF, HTML or CSV file. For PDF and HTML, there are multiple lay-outs to choose from. If you just want to share a single movie or episode using a Mail message, Messages or any other supported system share option, you can use the new Share menu button.
And much more
Movie Explorer Pro includes of course all features of the standard Movie Explorer edition. As a start, this includes first class file indexing with a very high matching rate using TMDb movie metadata, and technical metadata retrieval using the respected MediaArea media library. It includes also the extensive Cast, Crew, Studios and Files views, plus the informative Info view and entertaining Gallery view.
Available editions
The Movie Explorer standard edition has been upgraded to version 2.0 and offers now a subscription based upgrade to Movie Explorer Pro. It offers also a free, automatic ending, 14-day trial. But if you 'don't like' subscriptions, you can purchase the standalone Movie Explorer Pro app. Previous buyers of the 'TV Shows Add-on' remain access to all the extra features of the add-on, plus they get a discount on the yearly Movie Explorer Pro subscription price.