News Explorer 1.8.3 contains a few new features and some bug-fixes.
Added a new option Auto fix invalid feeds. When enabled, News Explorer will try to parse feeds that are normally rejected. This takes more time and processor power, and is therefore default disabled. The current implementation is limited to parsing invalid configured Wordpress feeds.
Fixed and improved rendering of code within <pre> and <code> html tags.
Fixed some other article rendering issues as well, mostly related to images.
The image extraction algorithm has been improved and extended.
The built-in Readability engine has been updated.
The poster image returned by the Mercury engine is now displayed, when available and applicable.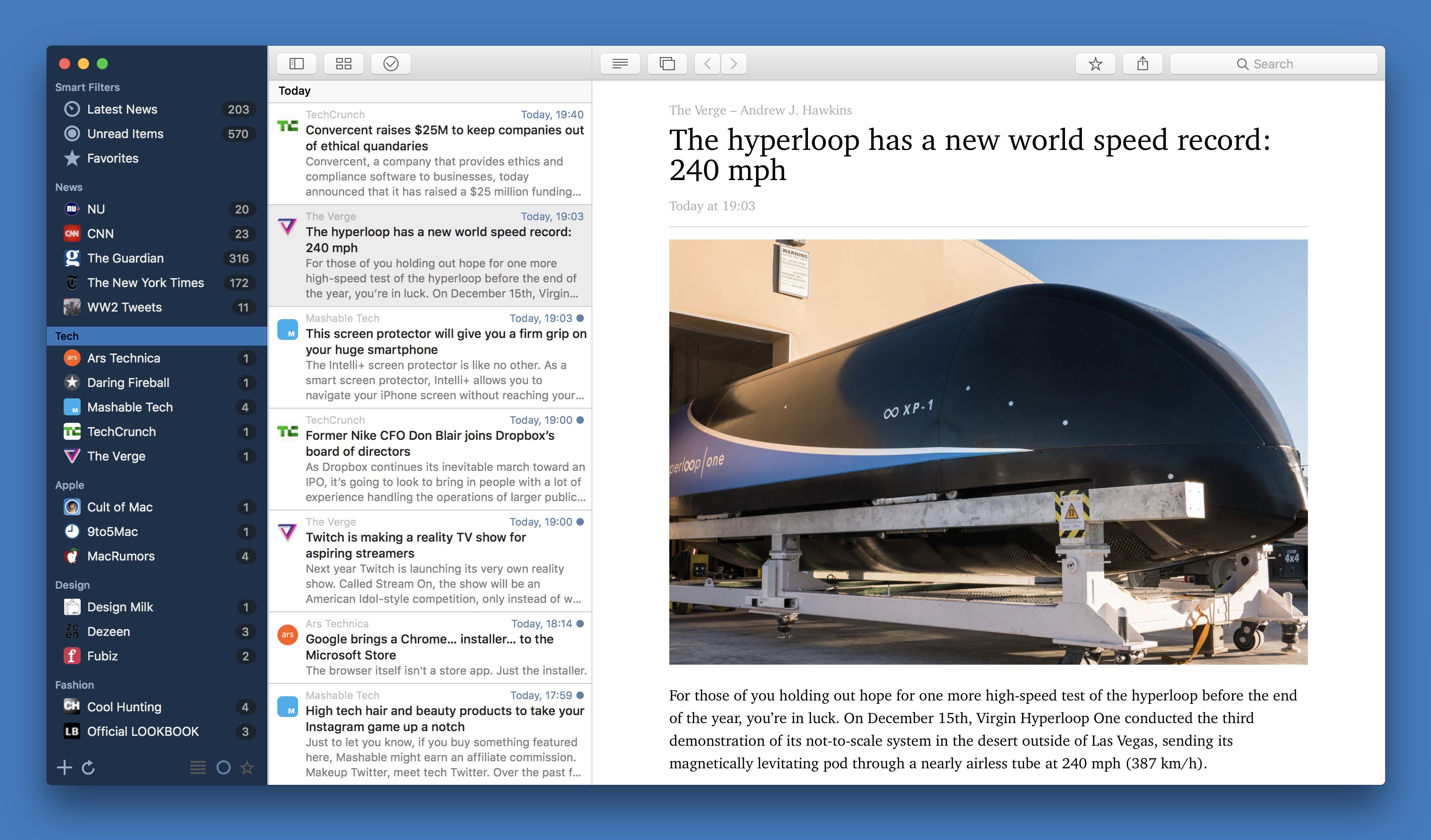 ---
News Explorer 1.8.2 contains some fine-tuning, some new features and bug-fixes. Version 1.8.2 includes the changes of version 1.8.1, released a day earlier:
The instant iCloud sync algorithm as introduced in version 1.8, has been tweaked to cover more complex synchronisation scenarios.
The Twitter options has been extended with a new Download likes option. When enabled, all tweets that were liked by the account of the Twitter feed, will be downloaded in addition to the other tweets.
Some feeds use links that are relative to the website internet address, like /pages/1234 instead of http://example.com/pages/1234. These links didn't work in News Explorer in the previous versions. This has been fixed and should work with RSS and Atom feeds.
A bug with the Use iCloud synchronization setting has been fixed. Changed settings were not saved when iCloud synchronization was disabled, including the said setting.
Version 1.8.2 adds a fix for using News Explorer for macOS and iOS without iCloud synchronization. This fix does not apply to the tvOS version, which for now remains on version 1.8.1.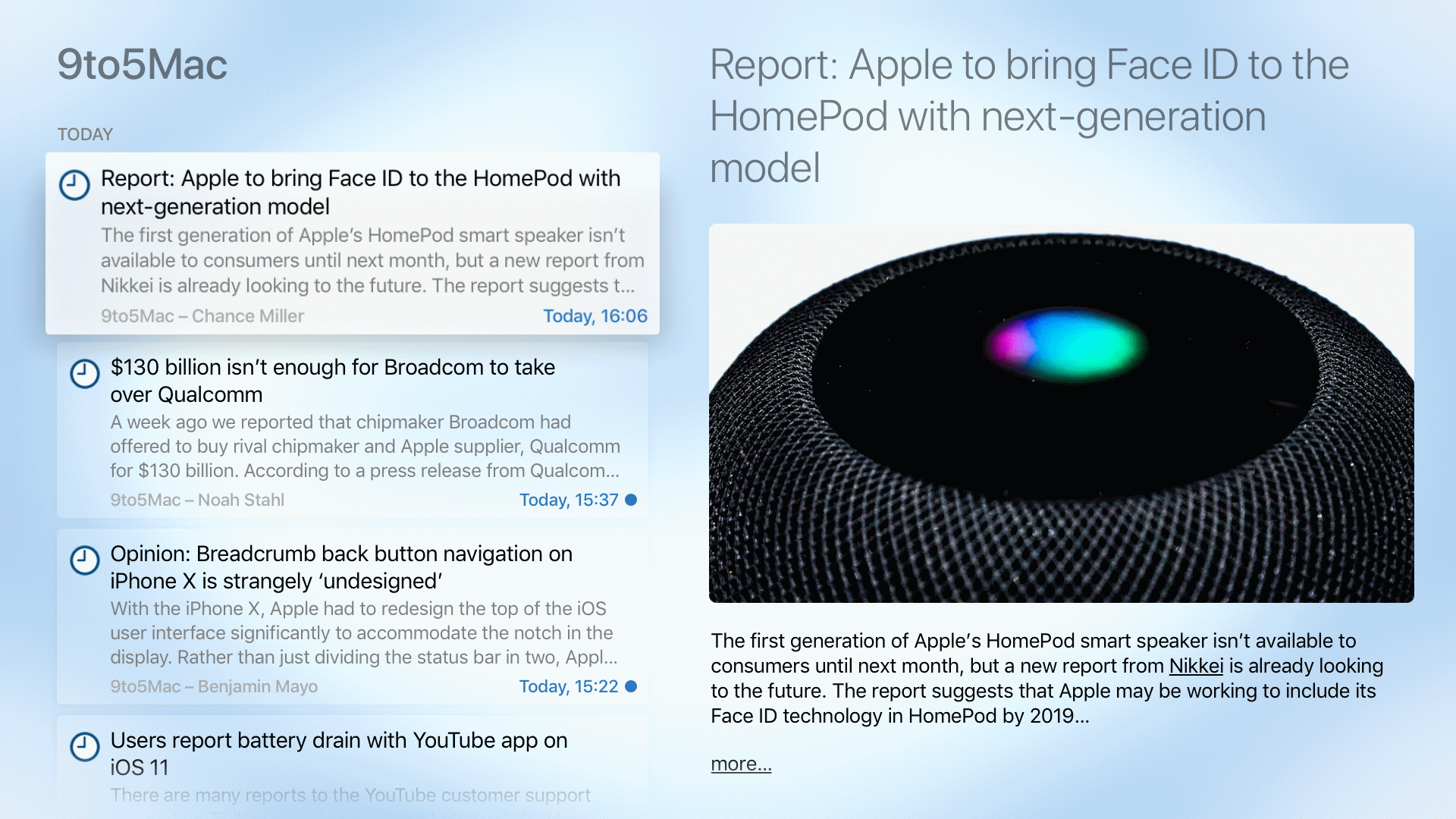 ---
News Explorer 1.8 features a greatly improved iCloud synchronisation algorithm with semi realtime data exchange between active devices by using so called 'silent push notifications'. This should result in a more 'automatic' sync experience with less need to manual interventions.
Transparent display of read items
Read items are now displayed with 50% transparency, which makes it a lot easier to distinguish them from unread news items. The default transparency level can be changed in the Preferences (macOS) or Settings app (iOS). If you dislike, or even hate, this new feature, you can even completely disable it by setting the transparency to 0%.
External link support
The following changes are made to support external links in news articles:
The article viewer will now show the external link of a news article, when available. Feeds like Daring Fireball (the JSON edition) and Drudge Report contain links to the original source article which are different from the link to the articles themselves. These external links are now displayed under the title of the article, unless you disable the visibility of external links in the settings.
When an article contains an external link, it will be used to generate the Reader view. Unless this is disabled in the settings.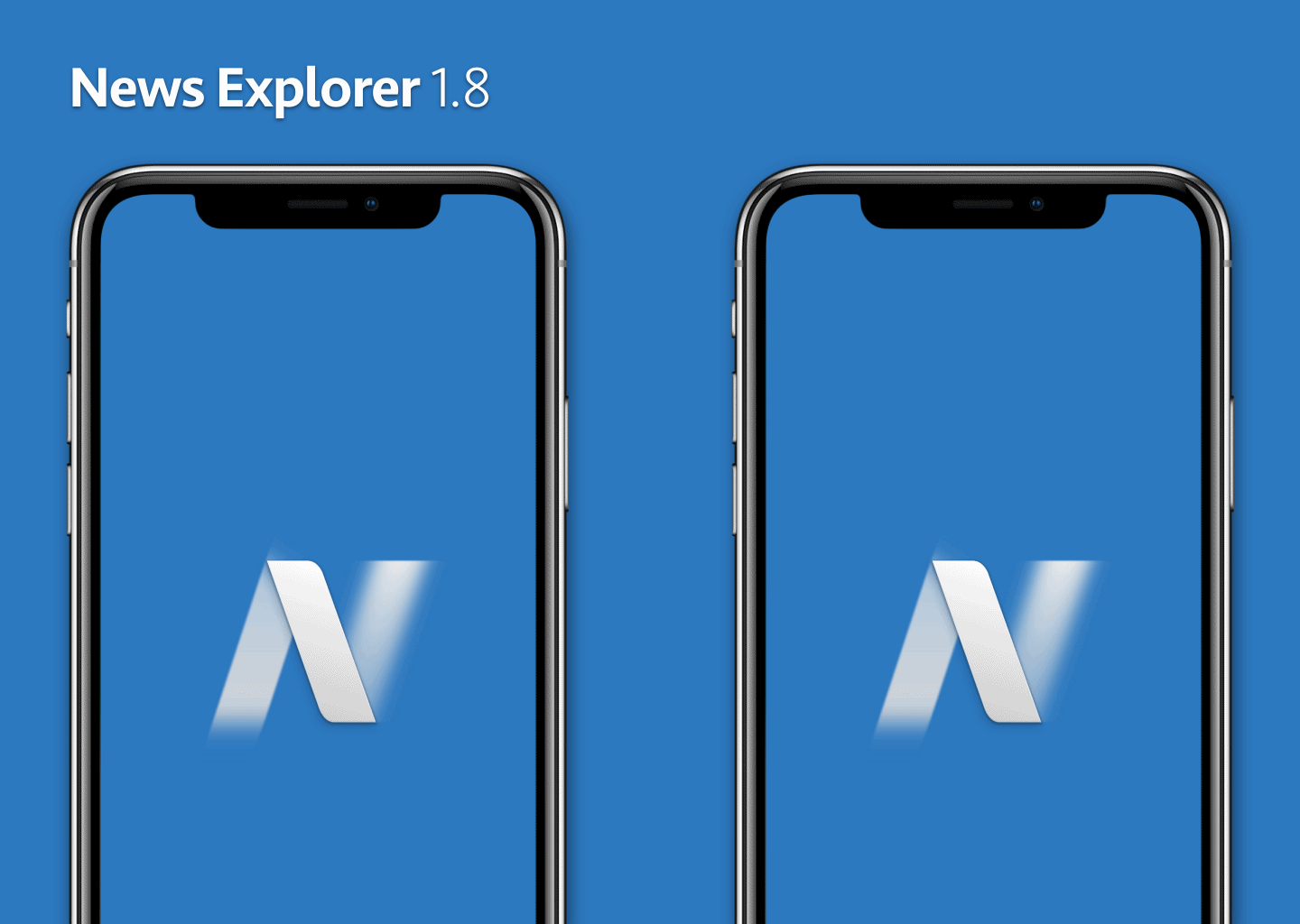 ---
Activation fix
Version 1.7.5 of Movie Explorer fixes an activation problem with the TV Shows Add-on. This problem was caused by a small change on how Apple generates so called 'receipt' files. The change made by Apple is the addition of a cancellation date to the receipt file. A misinterpretation of this date in the previous version of Movie Explorer resulted in not showing the TV Shows Add-on. This has been fixed in this new release.
Other changes
The view settings are extended with a new setting 'Show numeric ratings'. When enabled, numeric rating values are displayed under the thumbnails, instead of the usual stars.
Disabling the usage of a second localization language was ignored by the scan module in the previous version, resulting in several French media descriptions, if the first set language didn't have this data.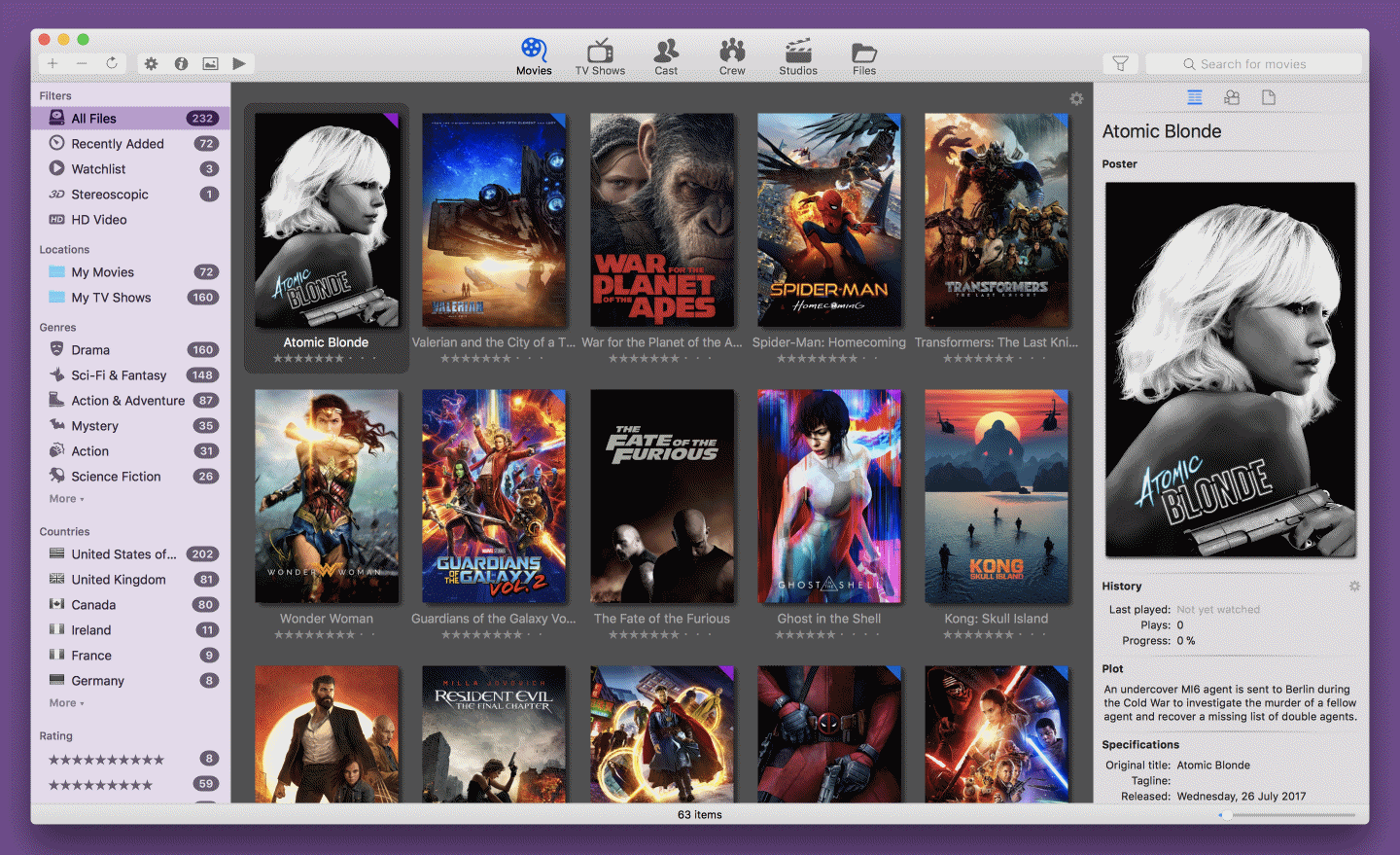 ---
Download Buddy has been updated to version 1.8.5. A small but crucial aspect of the Add to Download Buddy service was not touched during testing of the previous version, which resulted in a usability decline for some users. So that explains the short term delivery of this version, only one week after the last update.
Version 1.8.5 contains the following fixes:
The Add to Download Buddy service menu has been fixed in order to be compatible with rich text URL links.
Downloads that are halted by the Network Monitor Add-on due to a non-working VPN, will now resume when you restart the app.
The following new settings are added to the Preferences:
Setting 'Use extended extraction if possible' determines how download links are extracted from the clipboard content that's copied, dragged or send to Download Buddy. When this setting is enabled, the Rich Text Format content will be used instead of the plain text content. This may result in a better and more complete extraction, but it may also be incompatible with some sources.
Setting 'Suppress login warnings' does exactly what is suggests; not showing you an alert when you have downloaded something that results in an HTML document with a login.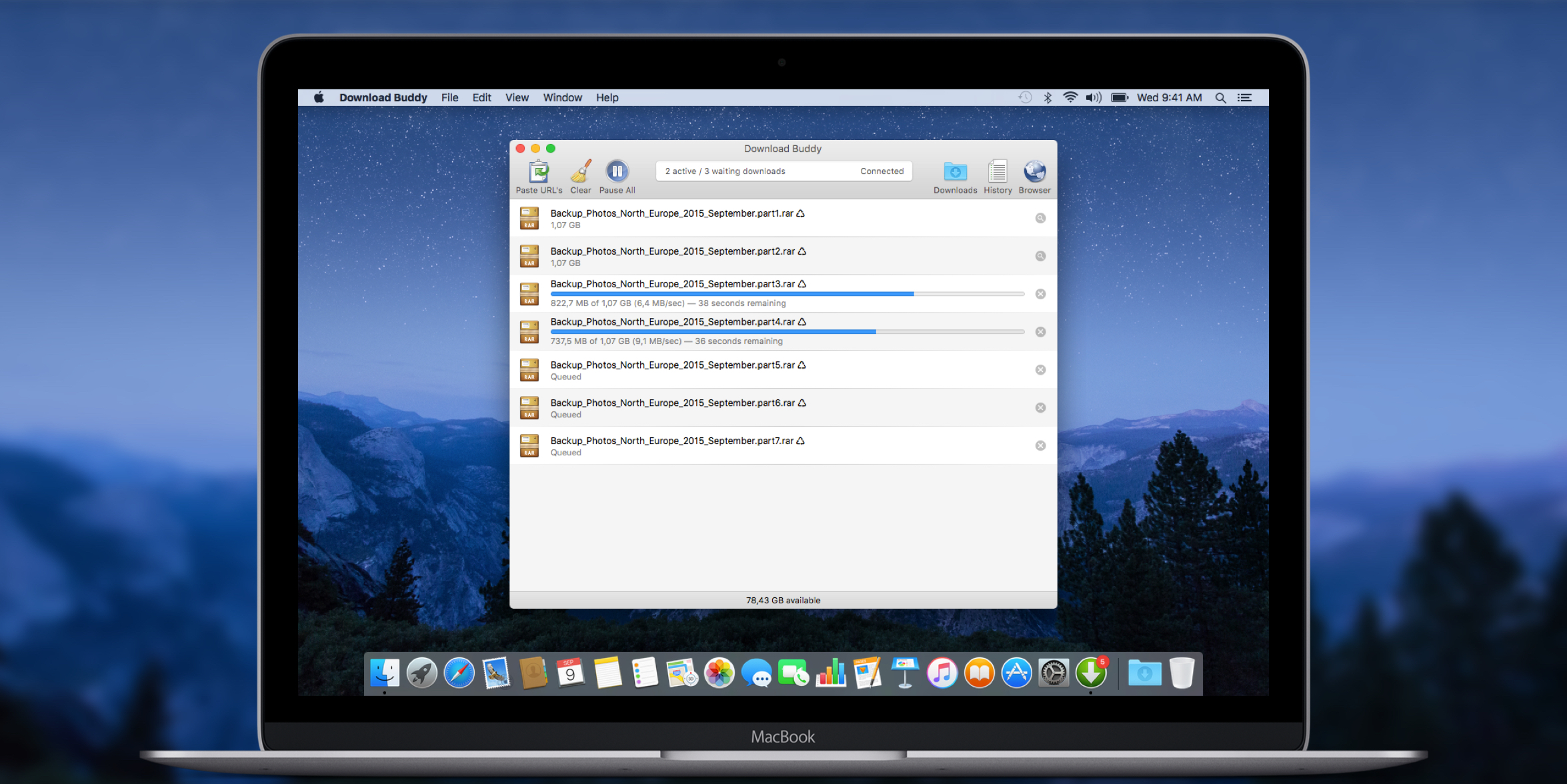 Download Buddy 1.8.5 is compatible with OS X 10.11 or later. The previous version of Download Buddy remains downloadable on the Mac App Store for users with older OS X versions.
---
The compatibility of the previous version of Movie Explorer with macOS 10.13 was not really problematic, with the big exception of the TV Shows In-App purchase window. This was rather strangely rendered with thin grey lines around all text fragments. So we had to update Movie Explorer as soon as possible, even though it doesn't really contain enough novelties for a real full-fledged new version. And during testing, we even discovered a few other scary incompatibilities, which we also addressed.
So what did we put in this new version?
As said, several compatibility fixes for macOS 10.13 High Sierra.
The MediaInfo library, that's being used to retrieve technical file metadata, has been updated in order to detect Dolby Atmos® and DTS:X® audio streams. We have made a custom version of this library, because the original unmodified library resulted in extremely slow scanning times.
The Files panel in the sidebar of the Movies and TV Shows views do now show the runtime of the files. Which will be more reliable than the runtime showed in the Movies panel, which is based on data of TMDb.
The 'Encoded by' field in the Files view does now show the app that was being used to produce the file. Unless the person's name of the encoder is available, which is often not the case.
Hitting the Spacebar will now open the Info window. This is an addition to the existing ways of opening this window.
By default, the Gallery now displays images maximized within the window.
And a lot of other invisible improvements plus a few visible tweaks, like the animated TV Show sidebar.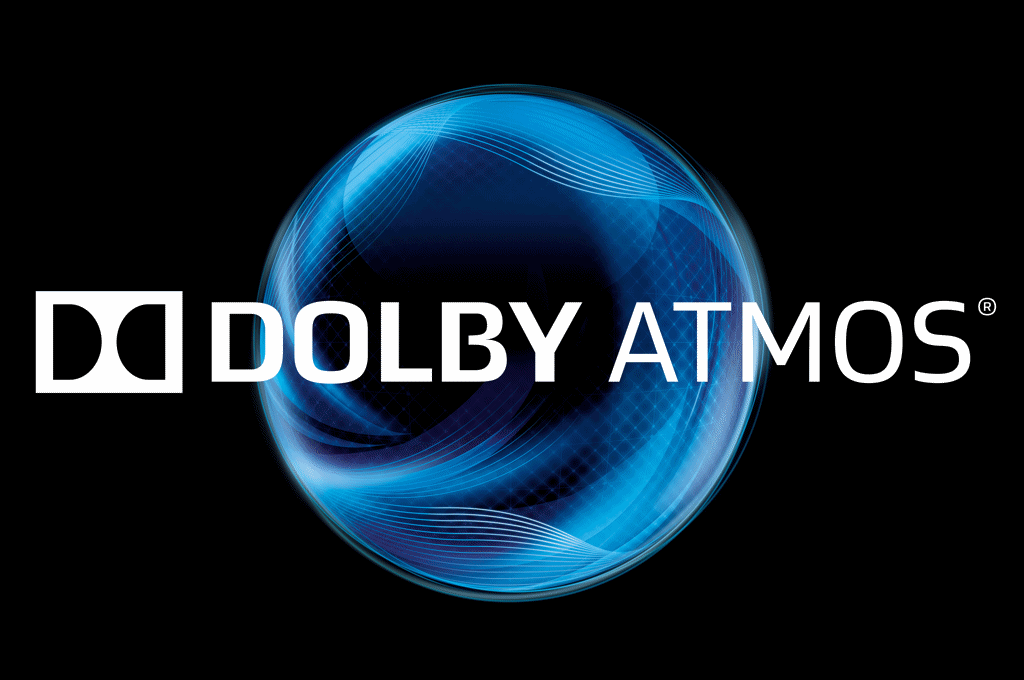 Movie Explorer 1.7.4 is compatible with OS X 10.11 or later. The previous version of Movie Explorer remains downloadable on the Mac App Store for users with older OS X versions. If you encounter any problems with this release then please contact us.
---
News Explorer 1.7: Improved integration and more
News Explorer 1.7 is a rather big release with a lot of new features and improvements. There are also some changes from a technological standpoint, in order to prepare News Explorer for the upcoming macOS 10.13 and iOS 11 releases, and to simplify and improve implementations related to iCloud, notifications and other system components.
New integration features
News Explorer 1.7 contains the following new integration-related features:
Built-in Twitter authorization
The authorization needed to use the Twitter feed integration is now built-in. The Twitter feed engine no longer uses the shared Twitter account settings of macOS or iOS. The main reason for this change is the elimination by Apple of the Twitter integration in iOS 11. We expect it will also be removed in a future version of macOS.
Built-in Instapaper and Pocket sharing support
You can now send news articles to Instapaper and Pocket, the two most popular read-later services, without installing any other third-party app.
To enable sharing with Instapaper and Pocket in the macOS edition:
Open the Preference panel.
Select the Sharing tab.
Click on the 'Login to Instapaper' or 'Login to Pocket' button.
Follow the instructions.
Optionally assign a keyboard shortcut.
You can now share with Instapaper and Pocket via the share menu or by using the assigned keyboard shortcuts.
To enable sharing with Instapaper and Pocket in the iOS edition:
Tap on the new Configuration menu button on top of the subscriptions list.
Tap on 'Login to Instapaper' or 'Login to Pocket'.
Follow the instructions.
You can now share with Instapaper and Pocket via the share sheet or by performing a long press on a news item. This will give you quick access to sharing with Instapaper and Pocket.
New Sharing preferences with keyboard shortcuts
The Preferences panel in the macOS edition has now a new 'Sharing' tab. This tab shows all available sharing services and gives you the possibility to configure the content of the sharing menu in News Explorer and to assign keyboard shortcuts to each individual sharing service.
New 'Add to News Explorer' sharing extension
A new 'Add to News Explorer' sharing extension allows you to add feeds to News Explorer directly from the sharing menu of Safari and other browsers. This works also great for YouTube channels, Twitter account and Reddit account web pages.
Improved YouTube playback
YouTube full screen playback has been improved:
When you open a YouTube news item in the macOS edition, a special YouTube button is displayed in the toolbar. Clicking this button will open the YouTube video in a full screen window.
The iOS edition already allows you to play YouTube full screen, but only in low resolution. You can now change this to HD resolution via a new setting 'Play YouTube in HD quality'. After changing this setting, YouTube news items will be opened with a high resolution video configuration, when available. As a consequence, the play buttons are a bit small. Just tap the video to start playing and tap with two fingers and spread them to switch to full screen.
Import and Export OPML files in iOS
You can now import and export OPML files in the iOS edition using iCloud Drive, Dropbox or other compatible services, via the new Configuration menu button.
Improved 'Add new Feed' dialog
The Add new Feed dialog will now also detect and handle Twitter account names and URLs. This works also when this dialog is called via the new 'Add to News Explorer' sharing extension.
New usability features
News Explorer 1.7 contains the following new usability-related features:
You can now 'Mark Above as Read' and 'Mark Below as Read' in the articles list view and in the timeline view. In iOS, perform a long press on a news item to trigger a quick menu with the new mark options. In macOS, the new mark options are part of the context menu. You can also use the new ⌘↑ and ⌘↓ shortcut keys.
You can now toggle between 'Read' and 'Unread' by simply pressing R on the keyboard.
And you can now toggle between 'Favorite' and 'Unfavorite' by pressing F on the keyboard.
The iOS edition supports now key commands when using an external keyboard. Hold down the Command key to see which key commands are available in the active view.
The Settings of the iOS edition are now accessible via menu item 'Open Settings' which is part of the new Configuration menu button in the subscription view. To navigate back from Settings to News Explorer, tap on 'News Explorer' on the top left in the status bar.
The new Configuration menu button in iOS, represented by a three dots icon, replaces the previous Edit button. To put the subscriptions list in edit modus, tap 'Edit Feeds' in the menu of the Configuration button.
In macOS, you can now move a feed to another folder by using the new 'Move to' context menu item. This was already possible in the iOS and tvOS editions.
In macOS, you can now toggle between all themes by pressing ⌘T.
In iOS, the articles list will be automatically hidden when moving to portrait modus on the iPad. This behaviour can be adjusted in the Settings.
In iOS, you can now set the width of the articles list view on the iPad.
In iOS, you can toggle the toolbar and navigation bar visibility in the article viewer with a two finger tap gesture.
In tvOS, the app icon shows now an unread counter badge.
Other new features
The Timeline shows now also news items without an image. You can configure this in the settings via a new setting 'Show imageless items in the Timeline view'.
Notifications in iOS do now show images, when available. You can disable this in the Settings. The macOS edition already had this feature.
The periodical iCloud cleaning is now done on a separate operation queue. This prevents endless long sync sessions when an iCloud cleaning is busy.
Removed support for 'Fast batch sync'. The more reliable 'Instant item change upload' is now the default. Other legacy sync settings are also removed. Make sure the sync priority is set to 'Instant item change upload' in older versions of News Explorer. This setting is automatically enforced by version 1.7, so normally you don't have to bother about this.
System requirements
As a consequence of the mentioned technical changes, the minimum required versions for macOS and iOS has been changed to macOS 10.12.2 and iOS 10.3 and later. The required versions for watchOS and tvOS remain the same, these were already set to the latest official OS versions. Synchronisation via iCloud still works with older devices running version 1.6.1 of News Explorer.
Support
If you encounter any difficulties with this new release, just send a message to support@betamagic.nl. More information can be found on the News Explorer product page. We will update the Help page as soon as possible to reflect the new changes.
---
News Explorer 1.6: Now available on all platforms
News Explorer version 1.6, with support for JSON Feed, is now available on all Apple platforms.
New features
News Explorer 1.6 contains the following new features:
Support for the new JSON Feed syndication format. See previous blog post for more details.
Enhanced auto-discovery when adding website URLs, to detect JSON Feed URLs (macOS and iOS).
Implemented HTTP Conditional GET to minimize network traffic. See previous post for more details.
Automatic detection of copied URLs when adding new feeds (macOS and iOS).
New options to open or preload an article in the default browser when clicking on the article title, in addition to opening the article in the in-app browser (macOS).
Idem, when double-clicking an item in the article list (macOS).
Support for protocol-relative article links (macOS, other platforms will follow).
Improved support for Google RSS feeds.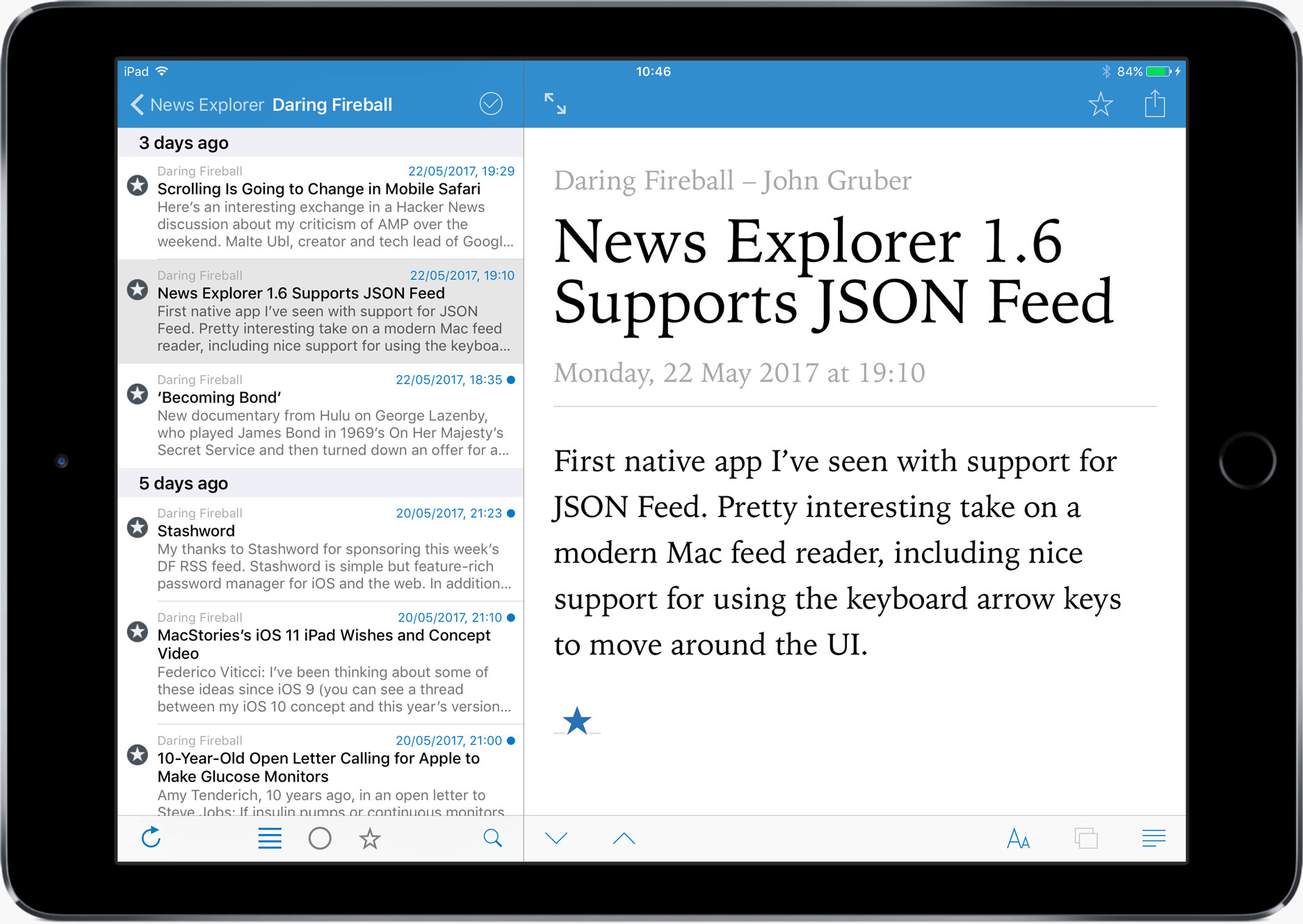 Availability
You only need to buy two apps to cover all Apple platforms:
News Explorer for Mac is available on the Betamagic Store, on the Mac App Store and is part of a Setapp subscription.
News Explorer for iPhone, iPad, Apple Watch and Apple TV is a universal purchase app, available on the App Store of the mentioned devices. Universal purchase allows you to purchase News Explorer once, and then access it on all connected platforms.
More information can be found on the News Explorer product page. We will update the Help page as soon as possible to reflect the new changes.
---
News Explorer 1.6: JSON Feed support
News Explorer 1.6 introduces support for the new JSON Feed syndication format. This format has been introduced last week and is a modern successor for the good old RSS and Atom formats. The main advantages of JSON Feed compared to RSS and Atom are:
It's based on JSON instead of XML. JSON is a simple and far more efficient data container than XML.
It's better structured. The 'data model' of JSON Feed contains nearly all fields that a modern newsreader needs, without the need for complex methods to generate a summary, main image and so on.
It's new. This means that publishers will likely follow the new JSON Feed definition by the rule without introducing or adopting all kinds of exotic 'extras', as is often the case with RSS feeds.
It's easy to implement and test. This applies both to publishers and app developers.
Currently there are only a few publishers that have implemented JSON Feed, so we're currently still in the chicken-and-egg phase. We at Betamagic love JSON and we really hope that JSON Feed will become the first choice syndication format of the near future, so we're happy to help this new format.
More info: jsonfeed.org.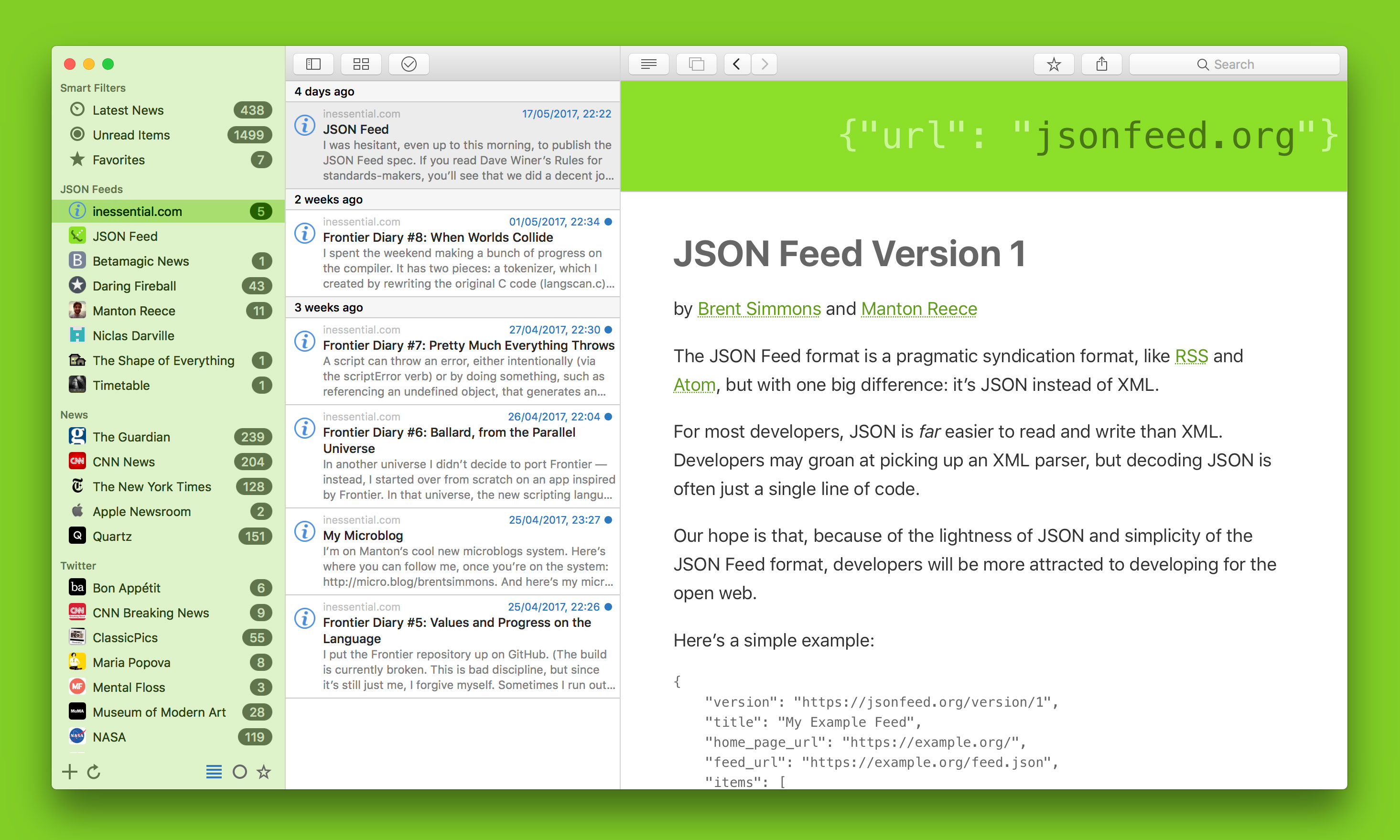 Other new features
Implemented HTTP Conditional GET to minimize network traffic. The JSON Feed format doesn't have a 'publication date' on feed level to determine if a feed has been changed or not. It relies fully on HTTP features when possible, such as a 'Last-Modified' HTTP header field. This is in fact more efficient and less error prone, so we implemented it also for RSS and Atom formatted feeds. About 50% of all servers supports the 'Last-Modified' header field.
Automatic detection of copied URL's when adding new feeds. This means that when you copy an internet address and starts the 'Add new Feed' dialog, the URL is already present in the dialog.
More information can be found on the News Explorer product page.
---
News Explorer 1.5.1: Fixes and refinements
News Explorer 1.5.1 contains some refinements on the new features added in the previous version 1.5 plus some other fixes and enhancements.
Improved YouTube RSS feed detection
The 'Add new Feed' dialog of the macOS and iOS versions of News Explorer has now been enhanced to properly process YouTube channel web addresses that end with an identifier instead of a readable name. If you copy a lot of web address of YouTube channels, you may see that there are three different formats. The 'classic' format ends with channel/name. Some newer channels end with user/name. And there is a category ending with channel/identifier, like https://www.youtube.com/channel/UCv5iVjD-tFfl04V4AB4XRYw, which is the YouTube channel of Apple Japan. The metadata of the last kind of channel pages don't include a reference to a RSS channel. The enhanced 'Add new Feed' dialog detects this kind of web addresses and changes it automatically to an alternative YouTube web address that does contain the needed RSS metadata using the identifier of the original address. Please read the YouTube topic in the updated Help page for detailed instructions how to add and use YouTube channel feeds in News Explorer 1.5.1.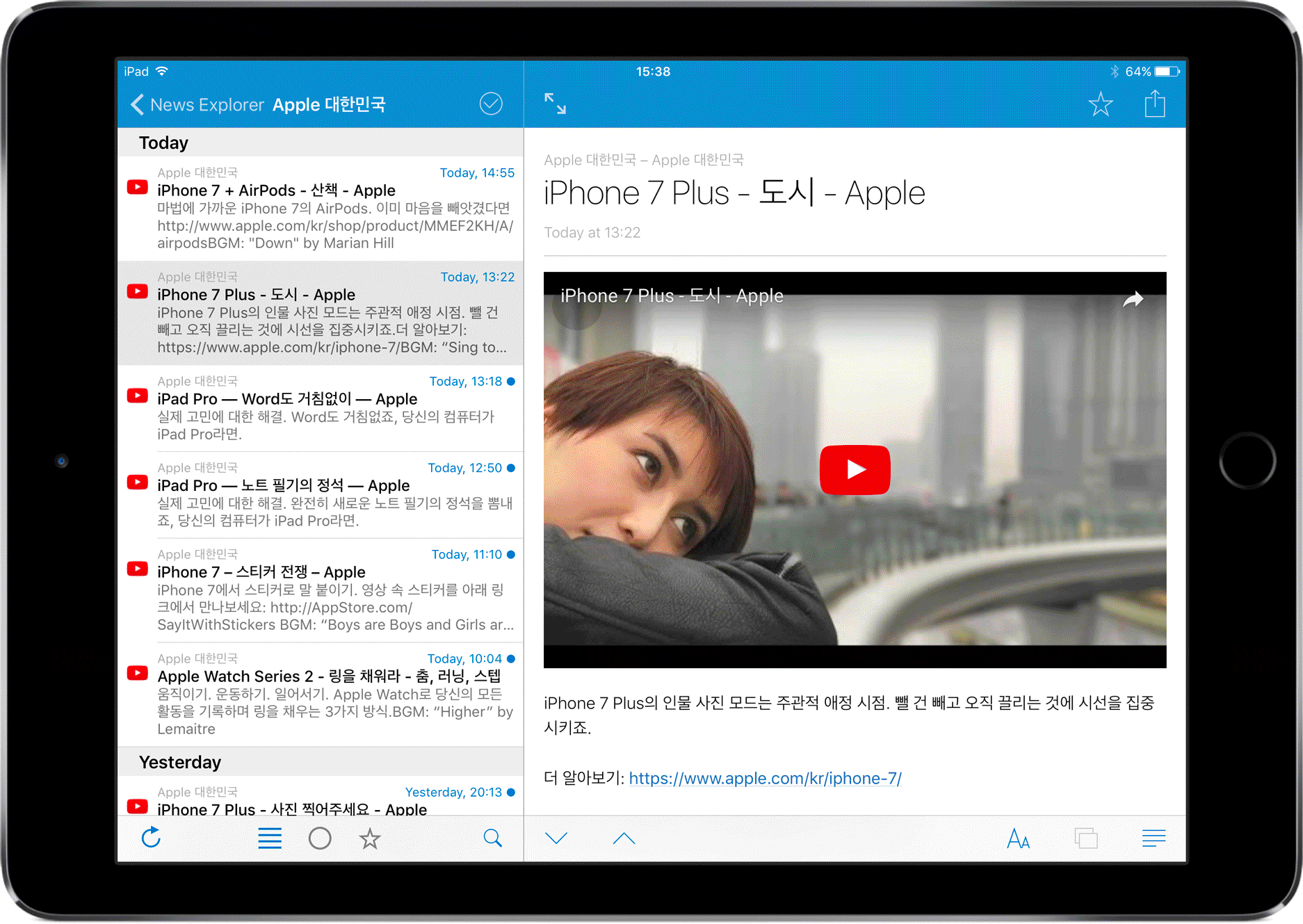 Other fixes and improvements
Fixed a duplication issue with legacy YouTube feed data.
Twitter feeds within OPML files are now properly imported.
Enhanced handling of feed icons with problematic sources.
Action "Open next subscription" is now the default for setting "After marking all as read".
Improved the performance of the Mark All as Read action in folders and smart filters.
Improved generation of title and summary for Tweets in Twitter feeds.
Improved refresh of the sidebar after Mark All as Read (macOS).
Last used source and target folder are now saved in the Search new Feeds and Add new Feed dialog (macOS).
Clear command works now as intended after manually marking items as read (macOS).
Improved validation when adding Twitter hashtag feeds (macOS and iOS).
Improved rendering of search results in the Search new Feeds dialog (iOS).
Added the missing Verified symbol in Twitter search results (tvOS).
Several other bug fixes.
---
News Explorer 1.5: Twitter news feeds
We're excited to release News Explorer 1.5 today. It comes with a huge addition, Twitter news feeds and lots of neat improvements.
Twitter feed support
With News Explorer 1.5 you can subscribe to Twitter feeds. Each Tweet is listed and can be handled similar to other news items, including offline reading. Tweets are pixel perfect rendered according to the Twitter guidelines, with full support for interaction. You can reply, retweet and like each displayed Tweet in the macOS and iOS version. Both Twitter user account timeline feeds and hashtag feeds are supported. Adding Twitter user account feeds is now part of the Feed search dialog on all platform versions, which makes it really simple to start using Twitter feeds in News Explorer. Read the Twitter topic in the updated Help page for more info.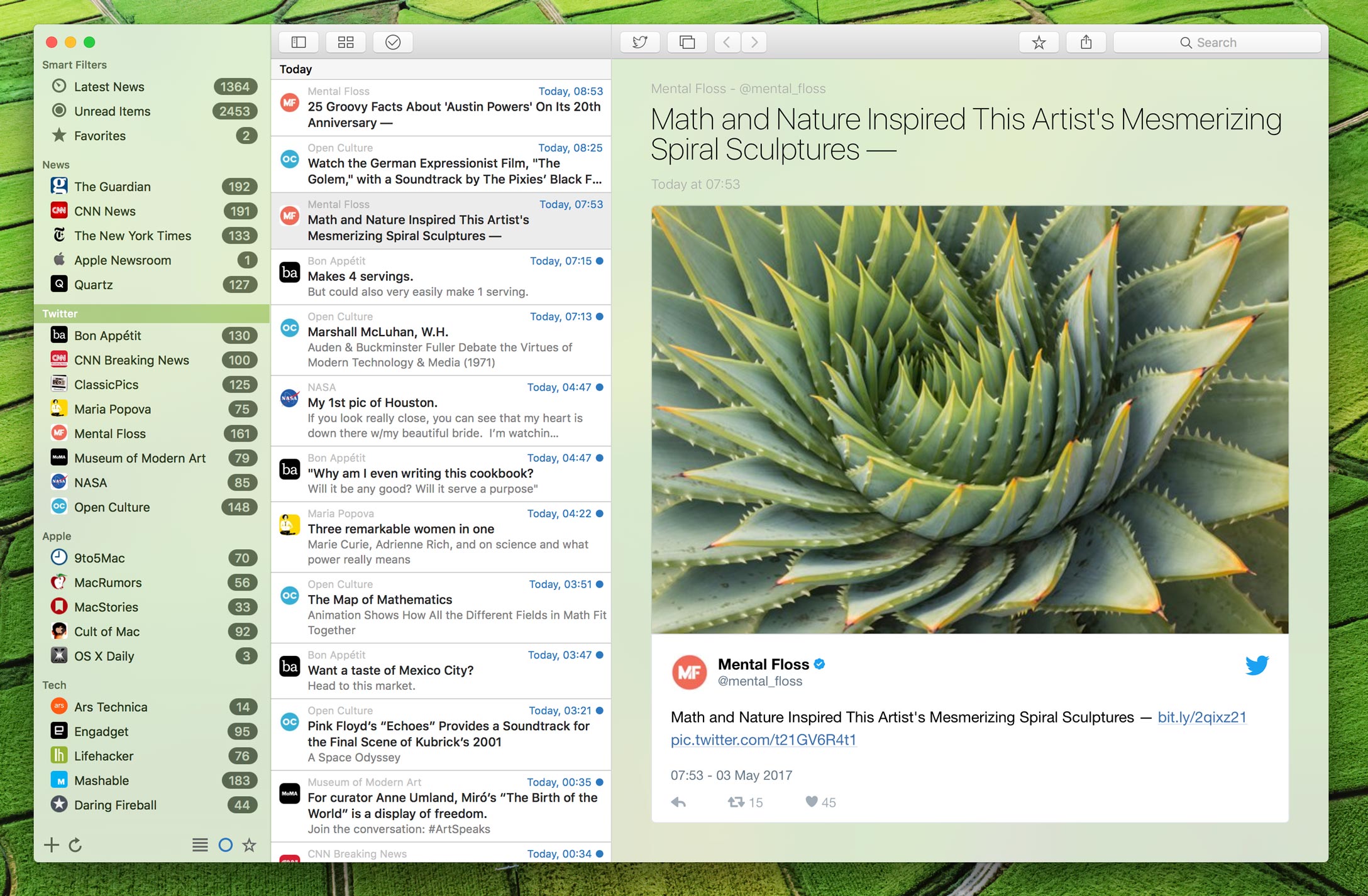 Improved YouTube channel feed support
Support for YouTube channel subscription feeds has been improved. Both the text content and video content of each YouTube feed item are now properly displayed, including a working video stream. It's really fantastic and fun to browse through a YouTube channel feed on the Apple TV, and to be able to play each video in full HD resolution. Read the YouTube topic in the updated Help page for detailed instructions how to add and use YouTube channel feeds in News Explorer.
Other improvements
Improved memory management when switching between views (macOS).
Solved image resizing issues in the Timeline view (macOS).
Automatic closing of network warnings after reconnection (macOS).
Improved implementation of the 'Auto hide subscriptions' option (macOS).
Navigate to the next or previous item by swiping or scrolling (iOS).
Improved support for video playback within news items (tvOS).
---
Movie Explorer 1.7.2: Multiple refinements
Movie Explorer 1.7.2 is a small maintenance release that contains the following changes:
Improvements
TV Show filenames may now contain the year of the first air date, to improve the matching results. This is very useful for TV Shows with one or more remakes, like Battlestar Galactica, The Americans and many others. The scanner engine will now assign a TV Show to the correct (original, remake or otherwise equally named) version when a year number is included in the filename. The year number must be placed between the TV Show title and the season/episode indicators.
Format: [show name] [year] s[season number]e[episode number].[ext]
Example: Battlestar Galactica 2005 s01e01.mp4
Episode numbers larger than 99 are now properly recognised. This is especially useful for specials or other content that isn't part of a standard season. These kind of episodes are normally part of an artificial season '00', and can sometimes easily pass the two-digits number.
Improved recognition of TV Shows with diacritic characters. Especially a lot of French users will benefit if this improvement.
Added support for region specific localised data. For example 'Portuguese (Brazil)' or 'French (Canada)' are now properly handled. Availability of localised data for a particular media item depends on the availability in TMDb.
New option to search for plot keywords in the Movies and TV Shows view. To use it, enable setting 'Search on title and plot in Movies and TV Shows view' in the Advanced tab page of the Preferences panel.
Improved display of images in the Gallery Viewer. Images are now always zoomed to fit the window size of the Gallery viewer.
Fixes
Scrollbars are now always displayed according to the system settings. In the previous version of Movie Explorer, the scrollbar style was forced to be hidden unless the user scrolls, no matter what kind of mouse or touch pad the user has. If you use a classic scroll wheel mouse and don't like all those visible scrollbars, then open the System Preferences panel, go to the General tab and change setting 'Show scroll bars' to 'When scrolling'.
Fixed window resizing of the Match dialog. The automatic resizing disappeared in one of the previous updates of Movie Explorer.
Solves a problem with languages with an incomplete genres set. Using a language for localized scanning could result in a crash when that language had an incomplete set of translated genres.
If you like this update, or Movie Explorer in general, then please support us by leaving a positive review or rating in the Mac App Store and on MacUpdate.com. This really helps the visibility and future development of the app. Thanks!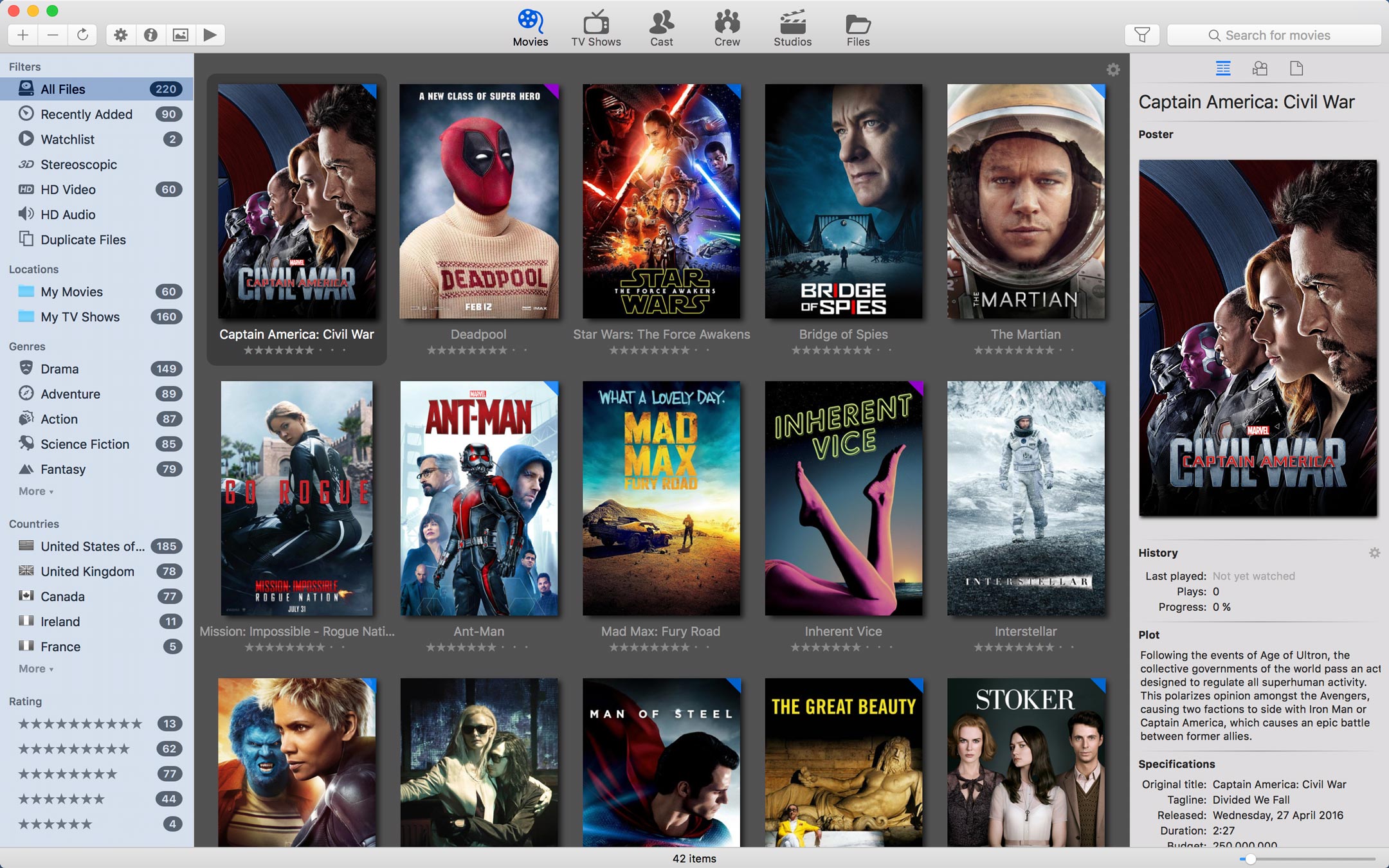 ---
Review of News Explorer on Setapp
News Explorer is now available on Setapp. Or rather, also available on Setapp. The existing channels to purchase News Explorer remain unchanged. If you have never heard of Setapp, then you haven't visited any Mac related website for the last few weeks, as there was intense media attention for this new concept. Setapp from MacPaw is basically a subscription service for macOS apps. Some say it's the Netflix for macOS apps. I don't like that comparison, because I don't really like Netflix, but otherwise it's a clarifying statement.
The Quest for the holy grail of Mac apps
A lot of Mac users want a safe, reliable, clean and easy way to find, install and use apps. Apple introduced the Mac App Store for that in 2010. However, nowadays the Mac App Store has become an overcrowded place full of apps of mixed quality, including way too many lousy apps that are just existing webpages in a web viewer. A lot of other apps are simply not available because of the limitations of the Mac App Store, or because the original developers decided to leave the store. There are also some websites that try to list and offer Mac apps, like MacUpdate. But most of these websites, if not all, do feel even more unsafe, unreliable and cluttered than the original Mac App Store.
Setapp as a fresh and solid alternative
With Setapp you get a special folder on your Mac filled with an uncluttered collection of hand-picked high-quality productivity apps. The apps in this folder are initially pointers to the real apps, to save disk space. Clicking on such pointer, or 'teaser-app' in MacPaw terminology, opens a preview of that app with some useful info and screenshots. The preview gives you the option to actually download and start the app. After using an app you can delete it if you wish, and you get the original pointer to the app back.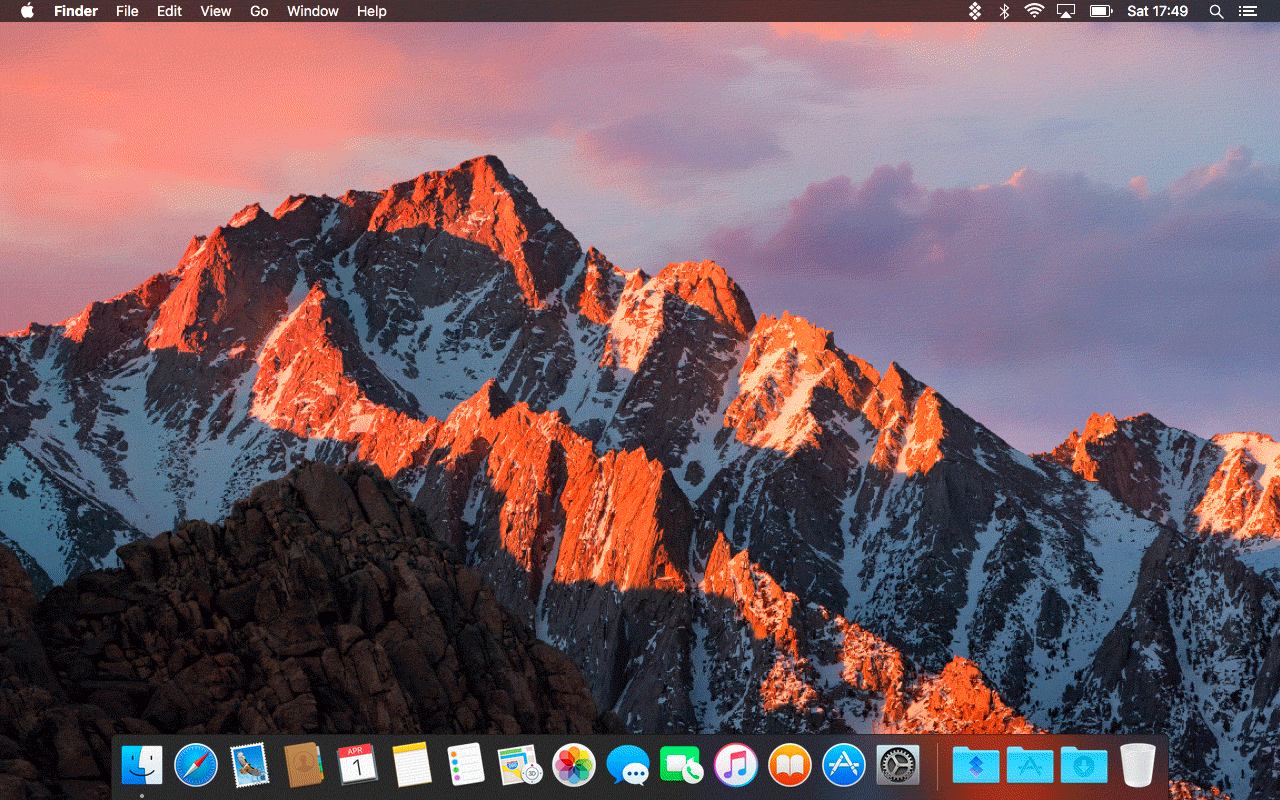 The current state of Setapp
The whole Setapp system looks and feels very well designed and it works fast and reliable. The collection contains some very useful apps for daily use, and a lot of other handy apps that you wouldn't normally purchase as a single app because they are either too expensive or you don't need them that often. Everything is now within reach for a small monthly fee. The current collection contains more than 70 apps, but this will grow to about 300 in the coming months.
Try it yourself
The best way to find out whether Setapp is useful to you is to use the free trial. This gives you one month free access to all apps, without any strings attached. Just hit the button below to start your free trial.
---
News Explorer 1.4.5: Important minor release
News Explorer 1.4.5 for macOS is the first release of the app that can be downloaded and purchased directly from our website. After downloading the app you can try it for free for 7 days. After this trial period, you can decide to purchase a license key from the Betamagic Store or to download the app on the Mac App Store.
But there is more… News Explorer 1.4.5 contains the following new features and improvements:
Font style and size of the news article viewer can now be adjusted.
The font size of the article viewer can easily be changed with new zoom menu items and shortcut keys.
Support for HTTP authenticated RSS feeds has been extended with support for Digest HTTP authentication.
You can now sort news articles on download date, in addition to the publication date.
The 'Add new feed' dialog has been improved, you may now skip the cumbersome 'http' prefix.
Implementation of the global 'Unread' filter has been changed, which saves a lot of memory.
Nice new About form.
And a lot of other technical enhancements.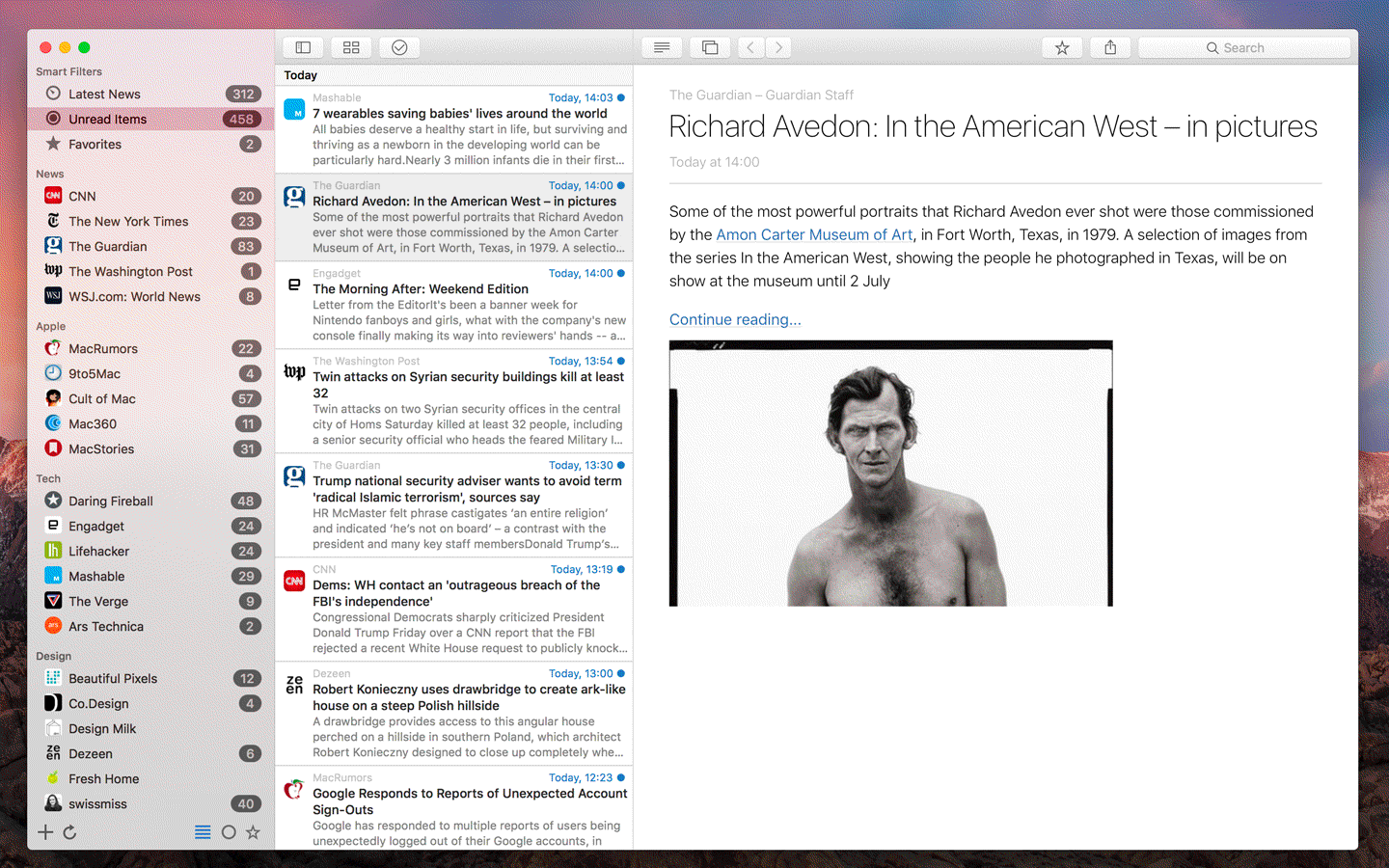 ---